Facebook has been upgraded by bearish BTIG analyst Rich Greenfield. He says Facebook revenue will BOOM in Q4 as the company is loading more ads in the news feed of the mobile app. According to the analyst the Q4 ad revenues are expected to increase by 42%, while total revenues increase by 37% to $1.55 billion. The U.S Q4 ad revenue estimated up 50%, accelerating from 36% Y/Y growth in from Q3 this year.
 Certainly, the report also expects 2013 revenue as $6 billion over prior estimate of $5.6 billion with adjusted EBITDA  (Earnings before interests, taxes, depreciation and amortization) of $3.3 billion over prior estimate of $3.0 billion. Q4  EBITDA , With adjusted EBITDA up 18% $858 mm( money making meanings).
Overall, Greenfield expects ad revenues to rise by 42% for the quarter, and total revenues at $1.55 billion, Which is above $1.49 billion current average on the street.
While this seems quite high in comparison with others, trading at 50 times this year's currently expected earnings and about 40 times is expected for next year. When compared Facebook to both LinkedIn and Google, the following table shows current analyst growth projections for both revenues and earnings in 2012 and 2013 for each.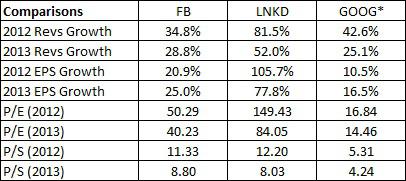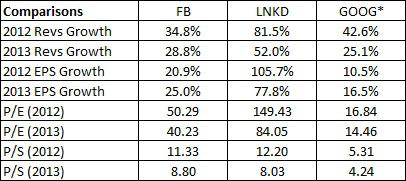 Well, we can see that LinkedIn is showing much faster growth than Facebook at this point. Facebook is actually more expensive than LinkedIn and Google in 2013.
Although, Google is earning far more money from mobile devices than Facebook. Google said that in the coming year, it would earn $8 billion from mobile advertising, apps and content. while, Facebook this quarter earned $150 million from mobile ads.
Indeed, 14 % of its advertising revenue come from mobile ads. With those results, its shares rallied more than 8% in after-hours trading. Even so, they were at about 45 percent of the initial public offering price. Its worth to note that 60% of all Facebook users log in from their phones and Facebook is just utilizing their customers smartly.
The company reported a net loss of $59 million in its third quarter, compared with net income of $227 million last year. This was the first time Facebook had broken out from its overall advertising revenue (collections from its mobile ads), and it was answerable to all it's critical questions laid by investors regarding the Facebook response to world's shift to mobile computing.
Also, Facebook has to use the data it is maintaining on its 1 billion users to sell ads beyond its mobile app and desktop platforms to increase its ad revenue. crucially, when consumers use their smartphones and tablets, without annoying users too much on ads.