Video access on mobile device has always been an issue for telecom vendors due to limited bandwidth. But the scenario has been changing since the advent of 4G LTE technology; now mobile videos have become quite popular on the faster wireless networks. According to a recent report from BI intelligence, 4G LTE technology and improved device-design (for smartphone and Tablet) have revolutionized the mobile video consumption across the world.
In the U.S., number of mobile video audience have increased by 77% to 36 million viewers over the last two years. The U.S. Smartphone market has reached to the saturation level in terms of growth rate, while global markets are on the rise. On the other front, Tablet sales are expected to explode in the forthcoming years globally.
Although global penetration of 4G LTE network is still poor, but it has grown opportunities for videos consumption. Now, even emerging markets like China and India are focusing to deploy the networks across their homelands.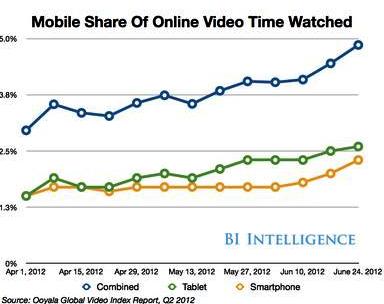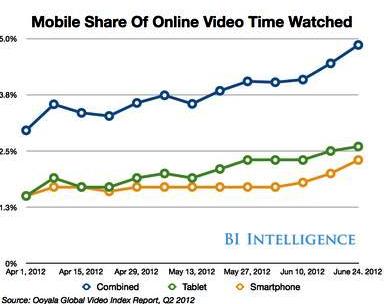 In the U.S., 33% of 4G subscribers are more willing to watch videos on their Smartphones compare to an average mobile user (without 4G LTE). This time, users are more likely to own larger screen size Smartphone and speedier processors. Anyway, 4G LTE technology has increased users appetite for video streaming on their mobile device, and this is the reason why the technology has boosted Smartphones and Tablets adoption. We can't deny with the fact that design of the device has impacted video consumption. This time, 7-inch Tablet format is considered as perfect on-the-go video watching device.
For the first time in 2011, mobile videos accounted for more than 50% of global mobile data traffic, and the contribution of mobile videos is expected to surge up, as more and more consumers will embrace it.
Although the price of these technology driven products and services (such as PCs and computer software) has continued to fall year-over-year, but the prices for wireline broadband is still flat over the last years. However, the adoption rate of wireless broadband is still a challenge due to its high fixed price. But in the last few months, we saw drop in the price of wireline broadband. However, it's understood that the high speed wireless network (LTE ) has compelled wireline broadband operators to lower their service price.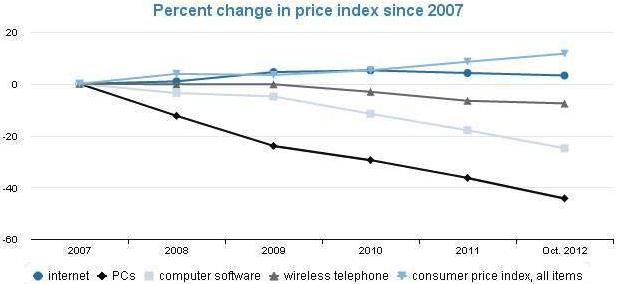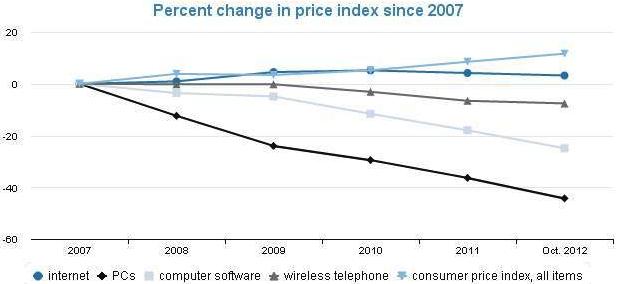 Consumers' price index for PCs dropped 24% in 2009 and 44.3% in October 2012, compared to 2007. Likewise, consumers' price index for computer software dropped 11.6% in 2010 and 24.9% in October 2012, compared to the 2007. On the contrary, consumers' price index for technology driven product such as Internet grew up 3.18% in Oct 2012 compared to 2007 and also, the overall consumer price index rose to 11.6% in October 2012.
Despite of the decreasing consumer price index of technical-driven products, consumers are still bound to pay the bills sumptuously. However, adoption of 4G LTE has somehow impacted on mobile video consumption and wireline broadband.