Social media has grown up to a big giant now and its still growing rapidly. It also offers new and meaningful ways for global consumers to engage with people events and brands. According to According to a new social media report, maximum time by consumers is spent on social networks than any other type of sites.
Interestingly, consumers spend 20% of their online time by PC while, 30% of total time online by mobile. Also, the total time spent on social media by PCs and mobile devices in the U.S mounted up to 121 billion minutes in this July, compared to 88 billion in July 2011.
The recent propagation of mobile devices and its connectivity has fueled up the penetration of consumers towards social media. Computers remain as the predominant device to access social media while, time spent with social media on mobile apps and the mobile web has also significantly increased 63 percent in 2012, compared to the same period last year. Facebook remains to be top in the list in terms of penetration, but new social media sites seen hatchling to compete with giants.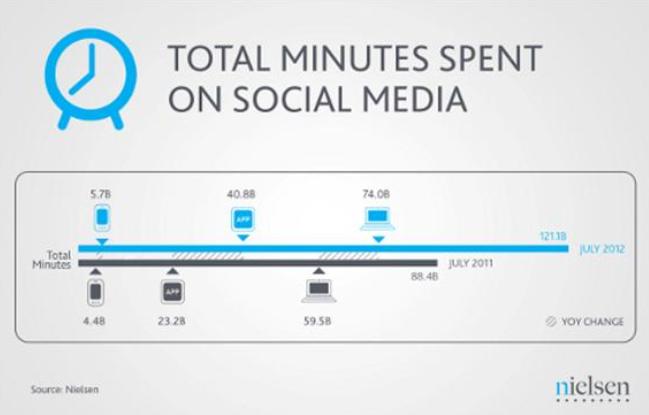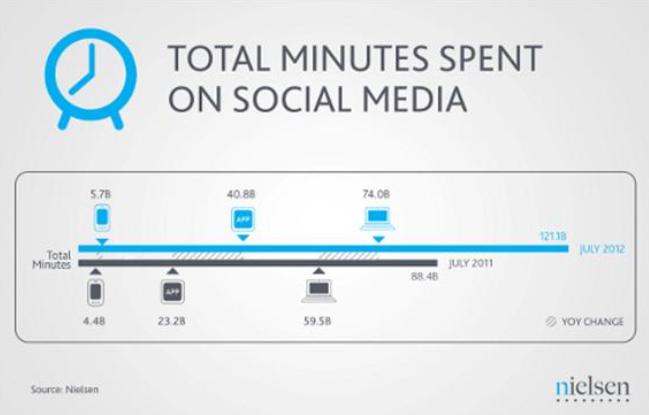 In the U.S Facebook remains the most-visited social networking sites by PC, conquering 152.2 million visitors, mobile apps acquire 78.4 million users and mobile web of about 74.3 million visitors.
Facebook proves to be multiple times the size of the next largest social site across each platform. Also, it is the U.S. top web brand, as 17% of time spent online by PC is on Facebook.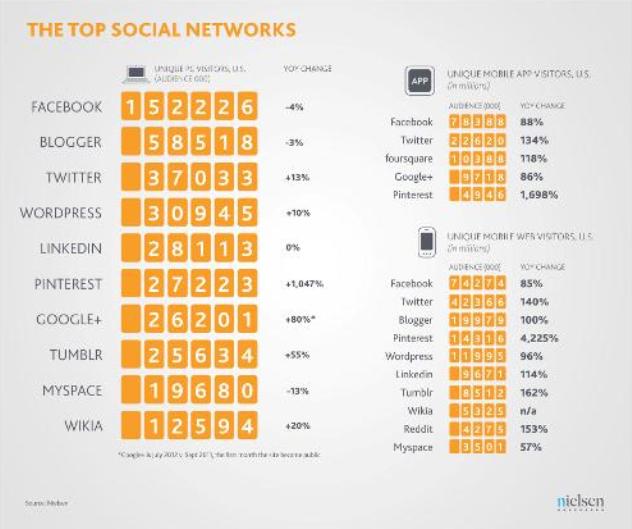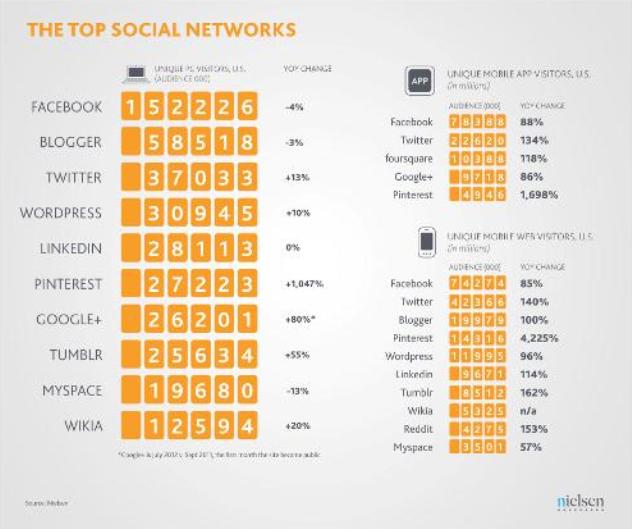 There are exploding numbers of social media networks available, and countless number of sites is adding social features. Facebook and Twitter continues to remain as the most popular social networking sites amongst many and surprisingly, Pinterest emerged as one of the stars in social media for 2012, showing off the largest YOY increase in having unique audience as well as time spent of  any social network across PC, mobile web and apps.
Image courtesy: Nielsen