Today, HP reported another dismal quarterly earnings. The company reported a revenue of $30 billion for Q4 of its fiscal year 2012 (ending October 30), down 7% compare to the same quarter of the prior year. Besides, the company also revealed a net loss of $6.9 billion ($3.49 per share) for the quarter, while it showed off a net profit of $0.2 billion a year back in Q4 2011. In addition to these, Non-GAAP diluted earnings per share also dropped to $1.16 in Q4 2012 compared to $1.17 in the same quarter of the prior year.
The worst news for HP in Q4 2012 was a huge $8.8 billion write down for $11.1 billion Autonomy acquisition. The company stood a huge loss due to serious accounting improprieties, outright misrepresentations and disclosure failures. It's true that the company's hardware business could not perform up-to-the-mark, but its major disappointment was concerned with Autonomy write-down. As Autonomy is the HP's largest acquisition till date, but HP had to pay a lot for its accounting fraud.
About the earnings, HP CEO–Meg Whitman–said, "As we discussed during our Securities Analyst Meeting last month, fiscal 2012 was the first year in a multi-year journey to turn HP around. We're starting to see progress in key areas, such as new product releases and customer wins. We're particularly pleased that in Q4, we were able to improve our balance sheet, generating $4.1 billion in operating cash flow, and we returned $384 million to shareholders in the form of share repurchases and dividends."
Last year, Microsoft and Oracle auctioned for Autonomy, but they could not acquire the company. Autonomy's enterprise software allows enterprises to provide insight and structure to electronic data.
Indeed, HP's Q4 2012 earnings disappointed shareholders and its stock price dropped to $11.71 today. See the details of HP's Stock price since January 2012.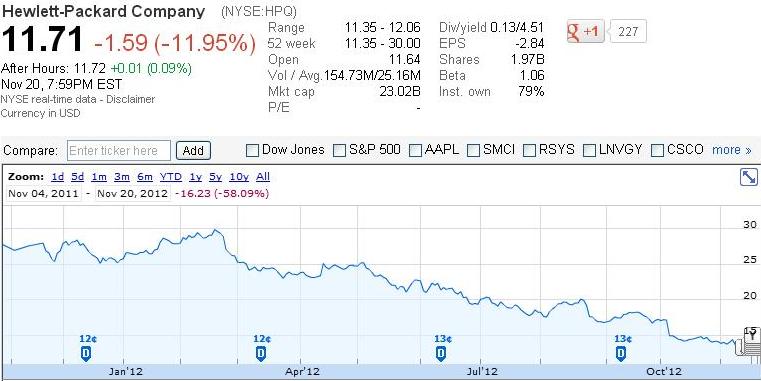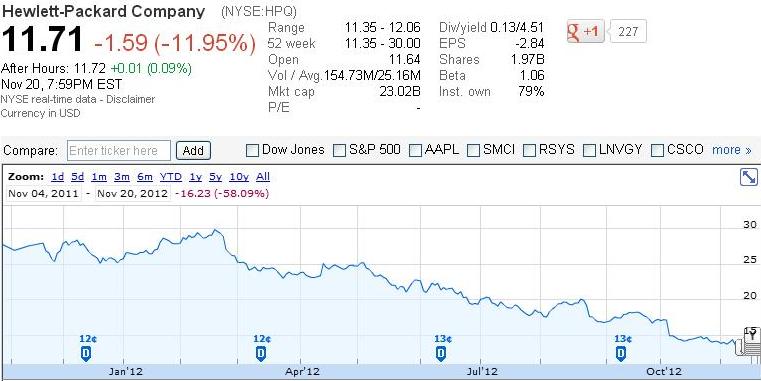 Interestingly, HP has acquired two companies –Palm and Autonomy–since 2001, and both acquisitions has remained noxious for HP. But this time HP is quite aggressive about its business modules and it has planned to increase IT spending and R&D expenses. Besides, it wants to simplify its complex sales and marketing process. In addition to these, the company has also planed to lay off 27,000 jobs in order to save $3-$3.5 billion annually.
Undoubtedly, we could not ignore the consequence of slowing PC demands and global economic crisis. These factors have somehow affected to the company's business in the last quarter. In Q2 2012, Lenovo surpassed the company in terms of PC shipments. However, the company has still faiths on its Envy Ultrabook and Sleekbook lineups, expecting to gear up business once again.
Furthermore, the company is also expecting to recover losses by the production of Windows 8 powered tablets. Its new ranges of Tablets will run on Intel's X86 processor (for Windows 8 Pro Tablets ) and ARM processor (for Windows 8 RT Tablets). This time, HP has targeted to serve enterprise customers those who have already used its line of Windows 7 based tablets.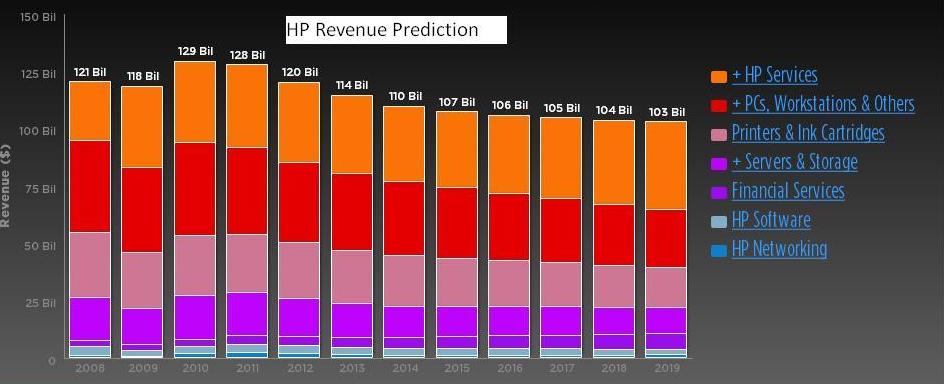 It's very clear that the company has merged PC and printing businesses, and the combined entity is now worth about $65 billion. At present HP is the world's largest printing solution provider and it could leverage over its brand value. It plans to introduce new cutting edge multi-function printers for obvious reasons that multi-function printers are now popular among enterprises as they provide multiple functions such as printing, photocopying, scanning, fax and more.
Moreover, OpenStack-based HP cloud is now a direct competitor to Amazon web services. HP's Cloud service is going to play a significant role in terms of revenue generation in coming years.
Image Courtesy: Trefis, Google Finance