Undoubtedly, Samsung is ahead of the rest of the mobile handset manufactures in terms of shipments. But when the discussion comes to mobile advertising, the South Korean giant trails off compare to Apple. According to Mobile Ad network– Adfonic–, Apple alone accounted for 37% of all mobile ad impressions on networks in Q3 2012, followed by Samsung with 24% of ad impressions during the same period.
However, iPhone 5 was launched in late of Q3 2012, despite Apple succeeded to lead over other vendors in terms of mobile ad impressions. Apparently, we could see the impact of Apple's latest iPhone in this quarter. On the other hand, Samsung's mobile ad impressions market share is also expected to raise due to arrival of some flagships such as Galaxy SIII Mini and Note 2. More importantly, 81% of mobile ad impression were generated by the top five manufactures in Q3 2012.
At present, Samsung is quite aggressive in making huge inroads in device ownership in order to gain mobile advertisement market share. In the context, Apple devices such as iPhone 5 , iPad mini and fourth generation iPad are expected to boost the company's ad market share in Q4 2012.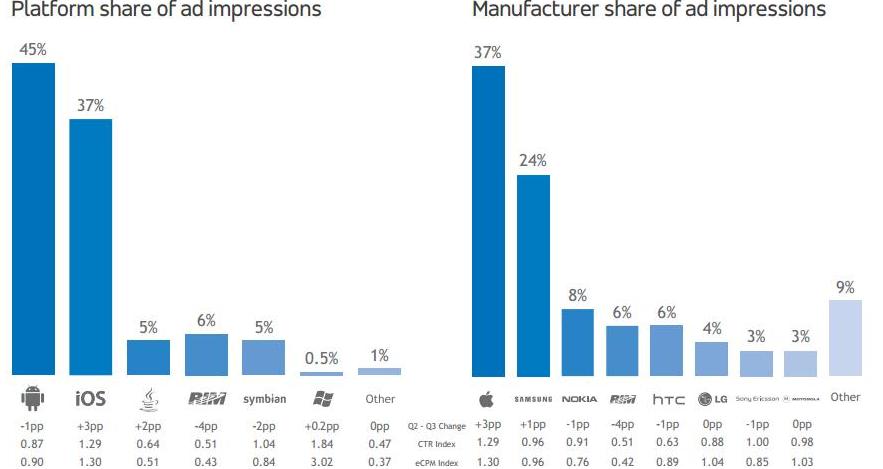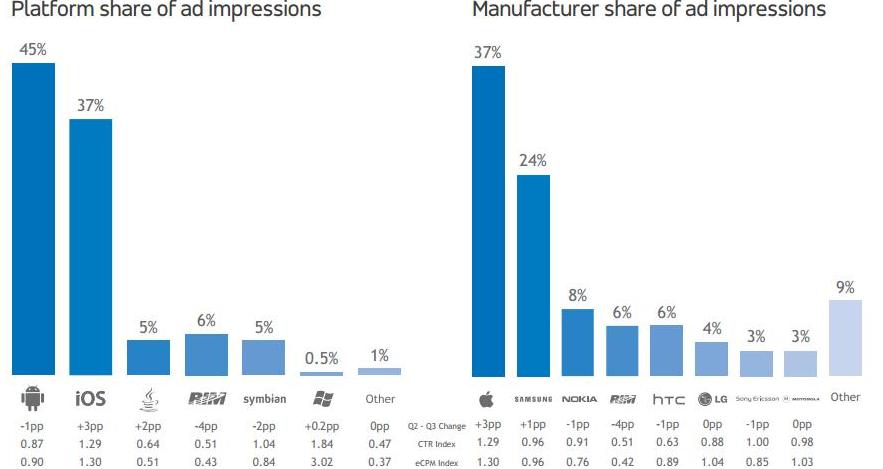 It's pretty clear from the above stats that Android was the leading mobile platform in terms of ad impressions in Q3 2012, accounting for 45% of all mobile ads impression in the quarter. Nokia succeeded to hold just 8% of market share in terms of mobile ad impressions, whereas RIM came after the Finnish handset manufacturer with 6% market share.
Now, advertisers actively select which device to target for their ads and of course, Apple and Samsung's devices have become most preferred destinations for them. Apple and Samsung have loaded more number of features into their devices which are remunerative for advertisers' campaigns.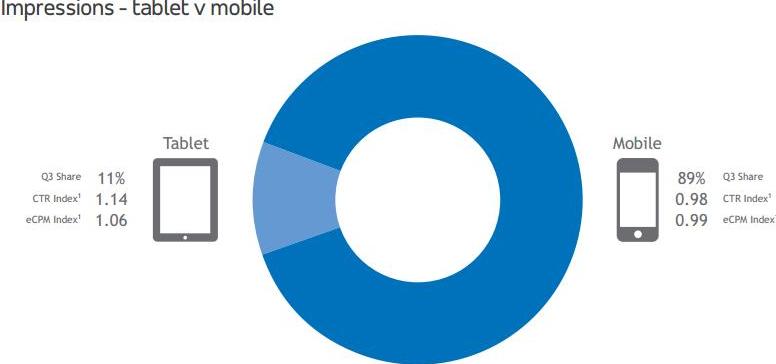 In Q3 2012, mobile handsets unilaterally dominated over Tablet in terms of mobile ad impressions; mobile handsets accounted for 89% of all mobile ad impressions in the quarter compare to 11% by Tablets.
Among top ten devices in terms of mobile ad impressions, 7 devices belonged to Samsung. Of course, from the above Table we could easily find out that Galaxy smartphones played significant role in overall mobile ads impressions. Apple's iPod Touch came at second notch, followed by Samsung Galaxy S2 and BlackBerry Curve. Despite of tremendous shipment record, Samsung Galaxy Note came to eighth position in terms of ads impression in Q3 2012, and interestingly, the world's best selling smartphone for Q3 2012 —Samsung Galaxy SIII—stood sixth position.


In terms of ads impressions on tablets, iPad unilaterally dominated with 63% share, followed by Galaxy Tab 10.1. Astoundingly, iPad's nearest rival Galaxy Tab 10.1 could hold just 4.9% of market share in Q3 2012, whereas Kindle fire had 3.6% share.
Overall, Apple is dominating over other vendors in context of mobile ads impression on both smartphone and tablet segments. In other words, advertisers will definitely focus on Apple's mobile devices for ads , comparatively more than even Samsung.