Prior to the launch of Windows 8 powered Tablets, it was expected that enterprises would embrace these tablets as bring-your-own-device (BYOD) for their organizations. But the scenario is quite different this time, enterprises are reluctant to adopt these devices right off the bat as BYOD. Undoubtedly, upcoming 12 months are expected to be critical for Windows 8 Tablet vendors.
According to a recent study from Forrester Research, only 24% of firms are likely to switch to Windows 8, but they have not yet decided when they will migrate to the platform. However, the study reveals that just 4% of firms have specific plan to deploy Windows 8 in next 12 months.
Majority of IT firms believe that migrating to Windows 8 platform is an expensive process that requires labor and investment.  It's pretty-known that majority of new corporate PCs are currently being deployed with Windows 7 and the enterprises continue to stick with the OS for next three-to-five-year. However, Microsoft has reportedly announced to halt support of Windows XP in April 2014.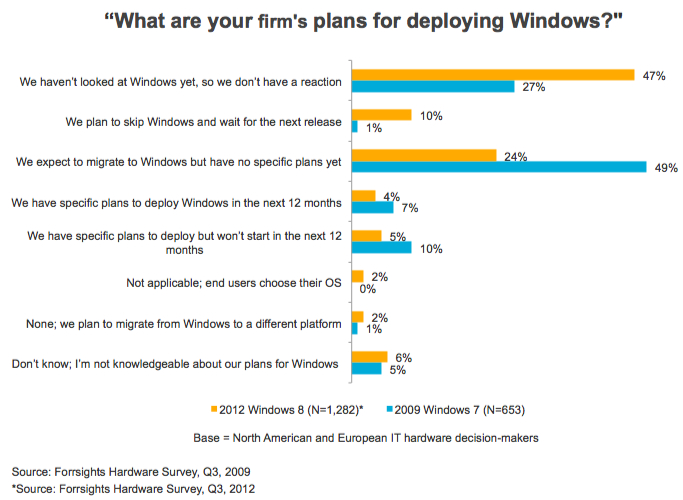 Apparently, in security aspects, Windows 8 platform is quite potent compare to Windows' previous versions–Windows 8 includes trusted Boot, improvised 'BitLocker' and Dynamic Access Control. But are they enough to entice IT professionals for adoption? In terms of patching, software license compliance and policy management, Windows 7 users will have limited benefits with Windows 8.
Majority of employees in the organization are likely to get their hand on technologies that are very simple to use. And this is the reason why they believe that Windows 7 is quite sufficient to fulfill their requirements. With Windows 8 OS, businesses and IT professionals are afraid to loss some of familiar Windows attributes like the start buttons for navigation. In addition to these, users and enterprises are confused between apps running on Windows 8 platform and the legacy Windows desktop (running on XP, Vista and 7).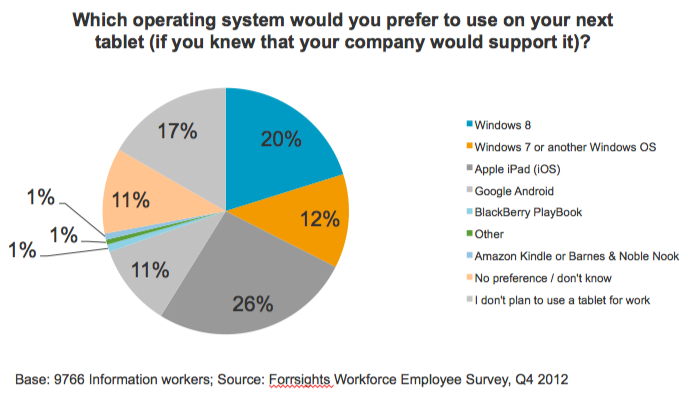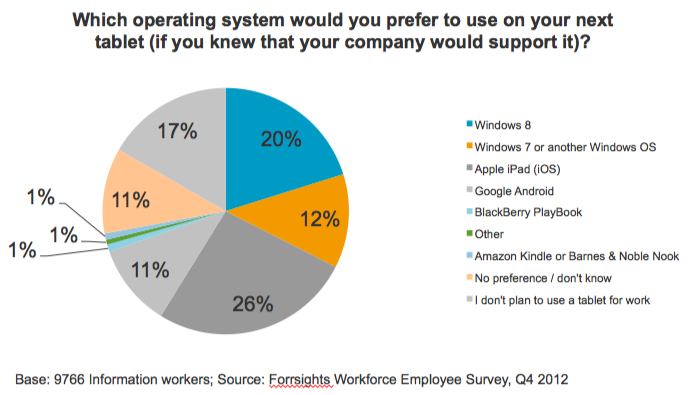 Business professionals, those are quite enthusiastic about the touch screen Tablets, have shown their interest towards Windows 8-powered Tablet, but the number is still quite low compare to those who are likely to own iOS and Android-powered Tablets. The study reveals that 20% of IT professionals would prefer to get their hand on Windows 8 Tablet against 26% for iOS.
Microsoft needs to educate enterprises about the basic differences between Windows RT and Windows 8. It should be understood that Windows RT is based on ARM processor architectures. For running of Windows applications on the RT devices, there is need of applications to be either rewritten or recompiled for the RT platform. They should not be confused with all Windows running apps will be supported by Windows RT Tablet.
More importantly, limited initial availability of Windows RT supported apps in the  Windows App Store is also somehow responsible for lower adoption of Windows 8 Tablets—there are less than 4,000 apps available for Windows RT. In comparison, more than 275,000 apps are available in Apple App Store for iPad.
Of course, Windows 8 is a complete desktop OS and it consumes much memory while installing on hardware compare to the normal Tablet OSes. However, the feature of Tablet as well as PC in a single device is quite appealing, but performance of battery in the device should not be hampered by the feature. It's true that Windows 8 Tablets running on Intel Core i5-or- i7 do not currently match the iPad or Google Nexus 7 Tablet in terms of battery backup. In this context, we could support Windows RT (running on ARM chips) that consumes less power, but the device has limitation, it does not support Windows 8 apps those are running on Windows desktops.
Price plays significant role,  and enterprise buy PC hardware on the basis of price and reliability. On the other hand, consumers buy the device on the basis of price and features. Of course, 'Microsoft Office' with touch enabled feature is one of the most attracting features that entices users towards the platform, but high-price tags of the device enforce them to keep themselves away from the device.