Are Apple's Products really losing their charm? Indeed, you will not believe and it's not true as well. Apple stock price has steadily been declining since two days before the launch of iPhone 5 . The company's shares have down 25% since September 19 this year, and the stock price of the company reached to six month low on yesterday—however, stock price little surged on November 16 and it closed at $527.68. In comparison to the last year, the stock price of the company is still 30% up, but it's too low compare to past few months.
It's speculated that the mutual and hedge funds are responsible for making sizable chunk of Apple's shareholders around. However, the reason is still unclear why they (shareholders) are selling off their shares. But one thing is clear that shareholders' stance is impacting to the company's stock price. It's also true that Apple's stock price is still expensive, though it needs new investors in order to sustain the stock price.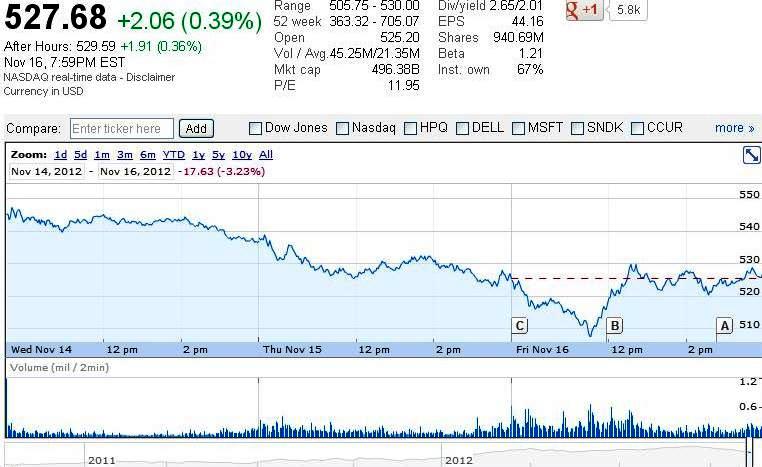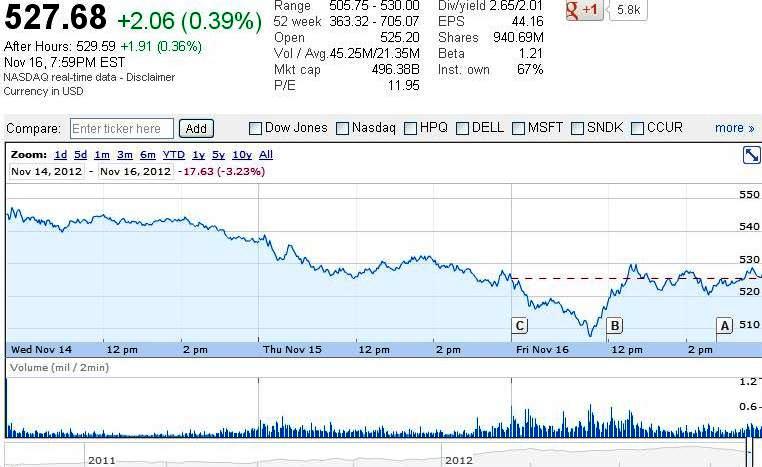 In terms of volume, Apple has been a consistent performer over the last three years. As usual, it was expected earlier that Apple's new product launch (iPhone 5) could boost the stock price of the company, but it wasn't happened so. However, the ratio market capitalization over revenue mounted up for Q3 and Q4 2012.
Apple has predicted to generate biggest revenue in company's history in Q1 of fiscal 2013. The reason is quite obvious that a slew of Apple's products including iPhone 5, iPad Mini, iMac, MacBook Pro and more will be available in this holidays. This time, the company wants to leverage over holiday season effectively by launching wide range of products in such short time-frame.  It's considered that 'iPhone 5' and 'iPad Mini' could be the year's hottest holiday gift. As the matter is concern with the stock price, you can't predict any company's future on the basis of stock price metric.
Apparently, it's not easy for Apple to sustain its market share in forthcoming quarters. With Windows 8, Microsoft could be a big threat for Apple and other tablets in enterprise segment.  The reason is pretty much clear that many enterprises run Windows OS back ends and the new Tablet running on Windows 8 could interact natively with those servers and infrastructures. Despite enterprises are reluctant to adopt the Tablets running on Windows 8  right off the bat because they want to be more stable and to make sure whether the Tablet is as much of efficient as Windows PCs are. At present, more than 90% of business professionals (those own Tablets) are having iPad, and it would be tough for Microsoft to entice those users towards Windows 8 platform. However, everything  depends upon the users and Microsoft can't force them to carry two Tablets.
It's well-know that China is the second biggest Apple's market and the company wants to retain its status here. After settlement of the iPad trademark  disputes in China in July this year, the company doubled the shipment of iPads in Q3 2013; Apple shipped 2.07 million units of iPads in Q3 2012, up from 1.15 million in the previous quarter. More importantly, Apple's fourth generation iPad and iPad Mini are yet to be launched in the country. The company has succeeded to retain its growth rate in China, reaching $5.7 billion in sales in Q4 fiscal 2012, up 26% compare to the same quarter of the prior year.
On the other side, smartphone has become one of the fastest-growing segments in China. Interestingly, Android accounts for 90.1% of the market in terms of smartphone shipment. In china, 500 million units of smartphone are expected to be shipped by the end of 2013 and the market has showed off 200% Y/Y growth in 2012. This time, iPhone could face stiff resistance in China from Samsung and other smartphone vendors. Samsung is leading the country in terms of smartphone shipments, and it succeeded to hold 14% market share in Q3 2012.
Image courtesy: (Google Finance)