Facebook has always been worried about the monetization of its mobile app/mobile-optimized web page. Facebook's mobile subscriber base is increasing with dizzying pace days-over-days and this time, it really needs to ensure quality mobile experience to users. Previously, the leading social networking giant were using HTML5 to more easily support development across multiple mobile platforms, but in August this year, it dropped HTML5 for native to build iOS apps. In August, Facebook released its a new version of iOS app that was based on native code instead of HTML5.
Facebook's decision to move away from HTML5 was considered as a death-knell for HTML.  But the question is here: Has Facebook's move really affected to HTML5 prevalence ?
According to a survey report (conducted over 4,000 developers) from Kendo UI, 94% of developers are either using HTML5 or planning to use by the end of this year. Only 6% of developers have no plan to use the HTML5 before 2013.
Why Developers Prefer HTML5?
Really, it's important to know why developers are more likely to work on HTML. The reason is quite obvious that it's easier to build up apps on HTML5, and more importantly, these apps work on cross-platforms. HTML5 is very familiar territory for developers. In other words, developers love HTML5 because they already know the basics of HTML.
Furthermore, 63% of developers are currently using HTML5—that's really impressive. Of course, HTML5 is an updated version of HTML that makes up much of the web today. It enables developers to build on their existing knowledge of web technologies such as HTML and Javascript. There's no need of having sound knowledge of objective C to build full native iPhone/iPad apps or having knowledge of Java to write Android apps. HTML5 facilitates developers to write their apps once and deploy them on all major platforms.
Most preferred Platforms For Web Development
It's pretty clear from above image that ASP.NET is the most used platform for web development, followed by PHP and Java/JSP.
Interestingly, 82% of developers accept that HTML5 is important to their jobs within next 12 months, and further 12% believe that the technology will become important to their job within the next two years. Almost two-third (62%) admits that the ability of HTML to support cross-platform is the main factor why they use the technology. On the other hand, another-third is saying that the availability of tools and code libraries has forced them to opt the technology.
Influence Of Facebook's Decision On HTML5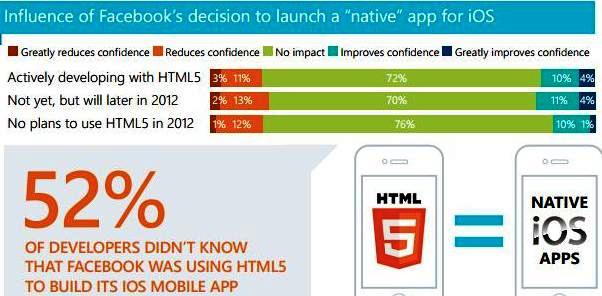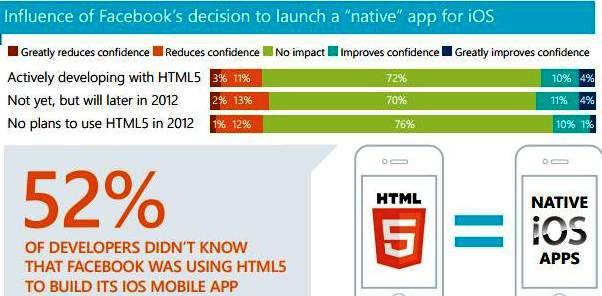 Despite of Facebook's decision to move away from HTML, developers still believe in the technology. Astoundingly, half of them weren't even aware with Facebook's move.
Browser Fragmentation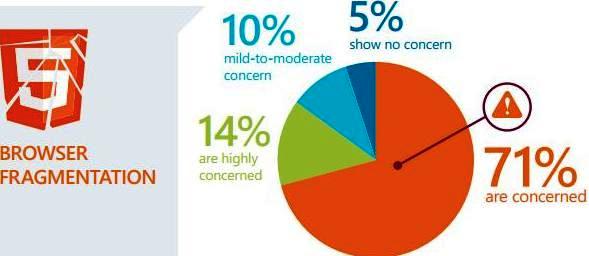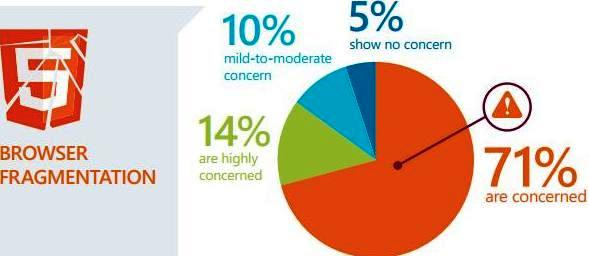 At present, platform fragmentation is one of the major concerns for developers—whether it's HTML or Android. And of course, fragmentation of the platforms are affecting to adoption of new standards and technology. About two-third of developers (71%) are moderately concern with HTML fragmentation, whereas 14% respondents are highly concerned (concern rating 10).
In simple words, developers are willing to use HTML5 due to its ability to support cross-platforms. Besides, a significant number of developers are going to work on the technology within 12 months.