iPad Mini and fourth generation of iPad were debuted by Apple on October 23 and now, the company has just announced that it sold 3 million iPads (iPad Mini and iPad 4 combined) in three days of its availability for sale. Both the Tablets went on sale on November 2, but number of enthusiasts (those went for buying new Apple Tablet to Apple's Stores) in queues were not as impressive as they have been for other Apple products, despite of Apple's two new models on sale. However, Apple managed to sell 3 million iPads in very short period of time.
3 million units of iPads (sold in three days ended November 4) are more than double the record that the company sold 1.5 million units of its third generation 'Retina Display' iPad during the same span in March this year since its availability for sales. The company sold even more than 20% of iPads in the last three days that it sold during last quarter, and more than half of 5 million units that it sold in the entire 2010.
iPad Mini Beats All Presumptions
Indeed, the stats could be a big slap on the detractors' face. But still they could say that Apple has reached the figure by selling two separate devices. Just a month before, the iPhone 5 got 2 million pre-orders within 24 hrs and Apple sold 5 million units in the first weekend of its availability for sale. On the other side, Asus has also reportedly stated to sell around 1 million Nexus 7 Tablets per month. However, this time Apple has targeted two categories of consumers–7-inch and 10-inch categories.
In other words, those who are price sensitive and could not afford high-quality iPad product, for them, iPad Mini could be a better option. Furthermore, the company has also launched high-end fourth generation iPad with faster processor with minor upgrades. Those who can't compromise on the basis of quality and want to have 10-inch screen Tablet, definitely for them, iPad 4 could be an alternative. Simply, we could say that Apple has targeted to a wider audience.
iPad Mini has always been in the center of discussions throughout this year, however, its arrival was unfortunately overshadowed by Hurricane Sandy in the last week. Several Apple's stores in lower Manhatten were shut down due to same reason. More importantly, Apple has not divulged how many units of iPad Mini and iPad 4 it sold in the last three days ended November 4 this year. However, it's expected that it sold more units of iPad Mini compare to iPad 4 in the first weekend. It's pretty known that Apple has launched iPad Mini in order to compete with Amazon's Kindle Fire, Google's Nexus 7 and Samsung's 7-inch Galaxy Tab.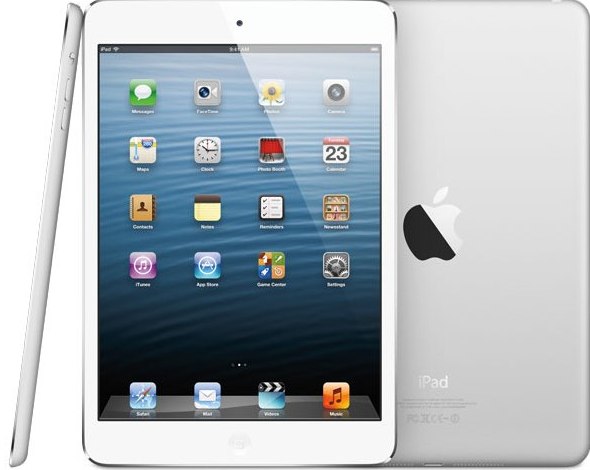 Apple is currently stuck with supply constraints and it's tough for the iPad maker to fulfill immediate orders of consumers. However, the company sold only Wi-Fi version of new iPad and iPad Mini last week, and the devices with both Wi-Fi and cellular connections will come in next few weeks. So, don't confuse with any rumor that Apple sold cellular version of iPads last week.
iPad Mini Could Boost Apple's Tablet Market Share
In Q3 2012, shipments of iPads dropped by 18% compare to 17 million of the previous quarter as users put off purchases until the Apple's smaller version of iPad released. However, the combination of increased overhead of iPad Mini production in Q4 2012 and lost sales in the last quarter could lead Apple to recover its losses in this quarter.
We weren't expecting that Apple could ship so many units of iPads in the first three days of their availability. The reasons were quite obvious; first, the device was to be launched on November 2 without cellular connectivity and 4G LTE models would be launched later in November. And more importantly, just 27% of Tablet markets were dominated by 7-inch Tablets till the end of Q2 2012; 63% of markets were dominated by Apple's iPad.
In Q3 2012, Apple's iPad market share declined to 50.4% compared to 65.5% of the previous quarter. The iPad shipments also dropped to 14 million in Q3 2012 compare to previous quarter. But increasing demand of iPad Mini could boost iPad market share in Q4 2012.