In India, a slew of 7-inch Tablets  including Zync, Sylvania, Vox, Micromax Funbook, Ubilslate and more are currently available at very affordable price tags. More importantly, 1.6 million Tablets are expected to ship this year and the figure will surge to 7.3 million units in 2015-16. Increasing demand of Tablets in India has even forced Apple to make stronghold in the country.
Apple launched iPad Mini in last month with price tag starting from $329. Now, the company is endeavoring to target price-sensitive audience in emerging markets (like India, China and Brazil) through iPad Mini. It's expected that Apple could launch iPad Mini in India by the end of this year.
Demands Of Low-Priced Tablets In India
Of course, the cheaper Tablet could be lucrative for the company to gain market share in India. Indian Tablet market is still nascent but it's growing with dizzying pace, showed off 673% Y/Y growth in Q2 2012. Micromax was leading Tablet vendor in the country till the end of Q2 2012 with 18.5% market share followed by Samsung and Apple with 13.3% and 12.3% market share respectively.
Undoubtedly, new iPad is quite better than majority of low-priced local Tablets in terms of processing speed and mobile ecosystem. Despite the consumers are more likely to give up some of the iPad's benefit to save money.
On the other side, local vendors are also improvising the look and feel of their devices. In addition to these, local vendors are also trying to make strong mobile ecosystem around in order to lure a significant number of users in the country. The local vendors are expected to lead over global brands in coming quarters due to cheaper selling cost and opportunities created by government's educational initiatives.
Currently, Apple sells a quarter of its Tablets to private educational institutes in the country and it's estimated that sales of iPad Mini will help the company to make its presence among affordable Tablet brands. iPad Mini could be a keepsake for aspirational buyers those who can't buy Apple's expensive 10-inch iPad.   However, increasing demand of iPhone 5 in the country could be a positive bode for iPad Mini–the demand of iPhone 5 is expected to be doubled compare to its younger sibling (iPhone 4S). Here, see the price list of some affordable Tablets: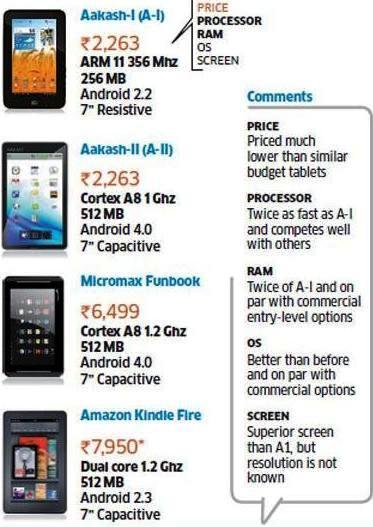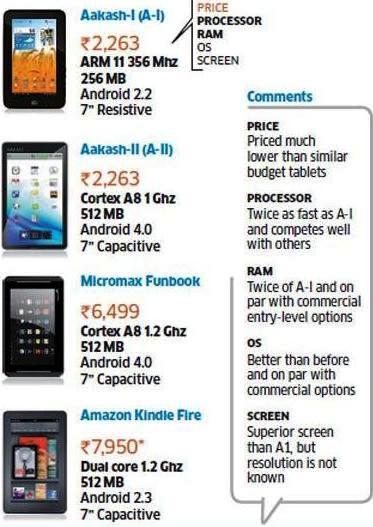 Challenges For iPad Mini In India
Furthermore, Apple's iPad is currently facing a fierce competition in developed markets from Amazon's Kindle Fire, Google's Nexus 7 Tablet, Barnes & Noble's Nook and Samsung Galaxy Tab . With a price tag of INR 2,263, Aakash has become a major challenge for other Tablets vendors in India. Micromax entered the Tablet's business this April and it has launched five models of their Funbook with price ranges from 4,999 to 9,999. Besides, the company also claims to sell 100,000 units every month, while on other side, "Wishtel" (another low-cost maker) is offering Tablets at starting price of INR 3,500 and it claims to sell about 50,000 pieces per month.
The main difficulty for Apple's product in India is multiple layers of distributions. The distribution eats profit margin of the company's products and that causes rise in cost of the products. It's not easy for Apple to open its own branded stores in the country due to Indian regulations. The price of iPad Mini is not as much of affordable as the price of the devices those are being offered by local vendors in the country.