Undoubtedly, Android is leading mobile OS in terms of smartphone shipments. Thanks to outstanding shipments of Samsung Galaxy flagships that have fueled Android to gain market share around the world. Samsung launched Galaxy SIII in late May 2012 and the model surpassed 20 million shipments as of September 2012. Besides, the device is expected to surpass 30 million units figure this year. But here, the matter is concerned with adoption of Android versions; majority of Android devices have still Android Gingerbread version.
Interestingly, Apple released iOS 6 in late September this year and 60% of iPhones and 45% of iPads were updated to the OS by October 1 this year. In comparison, just 1.8% of Android devices were updated to Jelly Bean version of the OS. Just a few days before, Google announced another iteration of its mobile OS—Android 4.2.
By October 1, 23.7% Android devices had Ice Cream Sandwich updates (Android 4.0), whereas 55.5% of Android devices were powered by Gingerbread version.
Yesterday, Google revealed adoption of different versions of Android OS around the world. Moreover, 25.8% of Android devices were updated to ICS (Android 4.0) by November 1—a 2.1% growth in one month period. On the other side, Jelly Bean reported almost 1% growth in a month period since October 1, whereas market share of Gingerbread dropped to 54.2% by November 1.  See the pie chart for further details: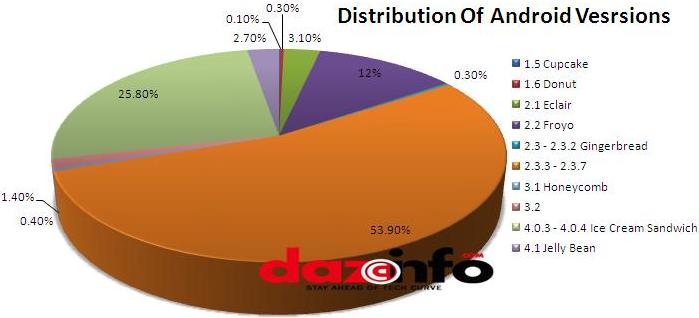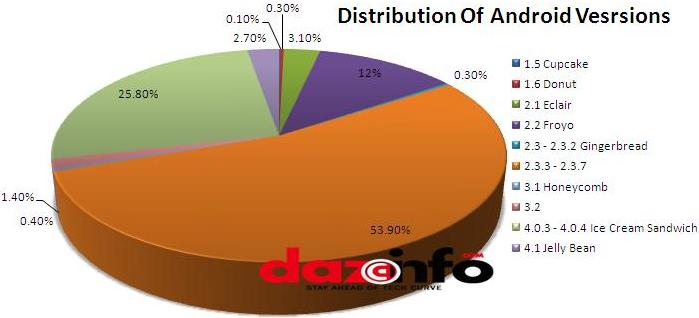 Despite of slower adoption in early stage, Android 4.0 reported an impressive adoption and reached to more than one-fourth of Android devices by November 1. In comparison, an adoption of Android Froyo and Gingerbread is continuously declining month over month. See the image below:


More importantly, 179.7 million smartphones were shipped in Q3 2012 and Samsung alone shipped more than 56 million smartphone in the quarter Q3 2012. In addition to this, it's also expected that the company will ship 303.6 million units by the end of this year. The company has already sold 10 million units of Android powered Galaxy Note and apparently, sales figure of Galaxy Note II are more than three times the rate of the original Note.  The South Korean giant has reportedly stated that shipment of Galaxy Note II model has surpassed 3 million units milestone just in a month after its launch.