Though, the adoption of Smartphone in India is relatively still low, mobile internet usage is surging up among users. A recent survey, conducted by InMobi and Mobext in May, depicts that Personal communication and Entertainment are the most performed activities by Mobile internet users in India and Smartphone has played a vital role in this.
With the emergence of local mobile manufacturers – resulting in low-cost smartphones –  adoption of smartphone is all time high since last two quarters. Consequently, mobile internet usage behavior is also witnessing a major shift in India. According to the survey, Smartphone has emerged as the most preferred mobile device among Indian Internet users. On an average, Smartphone users are spending 247 minutes on Internet, compare to 176.3 minutes by Desktop users and 136,3 minutes by Tablet users in India.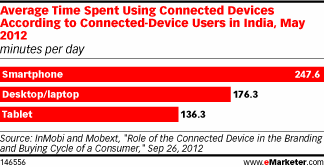 Interestingly, entertainment-on-the-go is being more popular among Indian users as compare to personal communication activity by Desktop users. However, Smartphone users seem little uncomfortable with their device for using it for any sort of information gathering or search activity compare to Tablet and Desktop users.
The survey tried to understand the behavior change after users bought any of the connected devices. The adoption of Tablet created the most significant decline in interest towards other activities; While 30.5% Tablet users have reported seeing TV less, 20.5% restricted their physical shopping habits.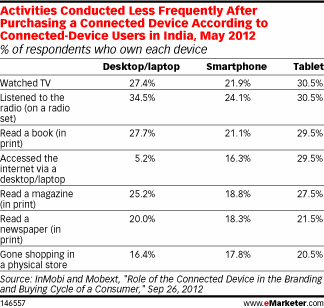 Though, survey doesn't answer few of the questions clearly but the results have few valuable indications. Tablet users are, apparently, leaning more towards e-shopping compare to Smartphone and Desktop – compare to 16.4% Desktop and 17.8% Smartphone users 20.5% Tablet users are performing less physical shopping activities. Adoption ratio of Digital content among Tablet users is higher than Smartphone and Desktop/Laptop users as Tablet users have turned out in higher percentage who ditched offline content consumption activities, like watching TV, reading Newspaper and Magazine.
The survey report clearly indicates that mobile devices and mobile internet usage in India have demonstrative effect over Indian population. While Smartphone have already accumulated the pace, it's time for Tablet which could have larger effect on mass community – specially non IT users who have stated feeling the need of a mobile device.
Via: eMarketer