Mobile App Market is witnessing explosive growth in recent time. Google Play and Apple App Store have now more than 600,000 apps each, while on the other side, Windows Phone Marketplace and BlackBerry App World have reportedly stated to surpass 100,000 apps each. Increasing number of mobile apps in App Stores has created huge opportunities for mobile app developers for last couple of years. As number of Tablets is continuously mounting up with dizzying pace, it could be a great hearsay for mobile app developers. At present, a slew of high-end Tablets including Kindle Fire HD, iPad Mini, Nexus 7 Tablets and more are available at very affordable price tags in the market and dozens are coming later this year.
According to a recent report from Flurry – one f the leading mobile app monetization company – household incomes of 59% of Tablet users are more than $50,000, while just 41% of smartphone users are enjoying being in such households income club. In fact, smartphone users are younger than Tablet users, but latter ones are more affluent compare to farther ones. However, it does not mean that affluent users are more willing to buy premium apps.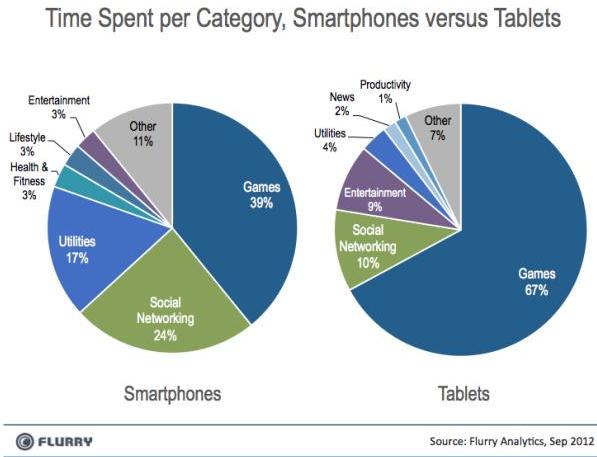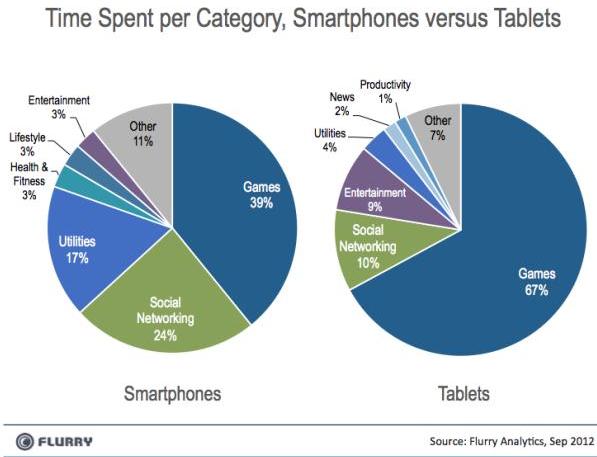 Interestingly, Tablets users spend more time on their device between 7 pm to 10 pm (tv prime time), whereas smartphone usages are more evenly distributed during day hours. In terms of game accessing, Tablet users spend 67% of their times on Games compare to 39% of times that smartphone users use to spend on their device.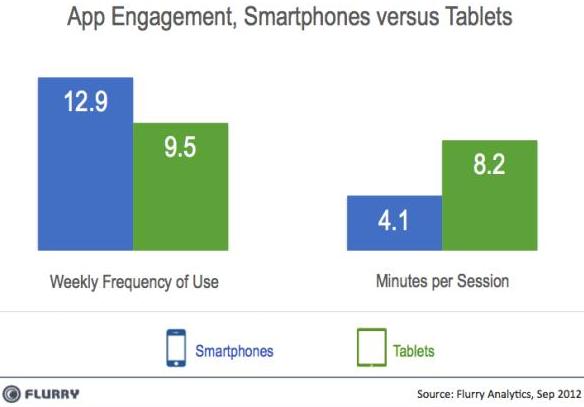 Smartphone users more frequently use their device for accessing apps, but they access for shorter period of time. App engagement on Tablet platform is two times more than smartphone platform. It has been find out from the survey report that consumers spend 71% more of their time in playing games on Tablet compare to they spend time doing so on smartphones. However, it's clear from Flurry's report that gaming on both platforms–smartphone and Tablets– is on the priority.
But considering to another recent report, revealed by PlayFirst, gaming on Tablet is second most popular activity, whereas gaming on smartphone is not even in the top five activities. More importantly, 61% of Tablet users regularly spend their time for playing games on their device, whereas just 43% smartphone users spend their time regularly on gaming apps.
Besides, games apps are considered as the top monetizable content on Tablet; 25% Tablet users paid for in-app games. Average Tablet gamers downloaded 20+ gaming apps  in the last year compared to 10+ gaming apps downloaded by smartphone users–6% Tablets users downloaded 20-30 paid games during last one year period ended March 26 this year. In 2012, 26% of Tablet users are expected to download paid game and the figure will surge to 31% by 2013.
Furthermore, 22% of Tablet users spent $31-$50 in the last year, whereas 17% and 13% spent $21-$30 and $11-$20 respectively during last 12 months ended March 26 of this year. It's pretty clear from the surveys, gaming app developers will have huge scope in future. Tablet users are more likely to buy paid apps and they are also more interested to spend time on their device compare to smartphone users. Anyway, gaming app developers need to be more focused on Tablet platform compare to smartphone.