Undoubtedly, Nokia has reached to its worst stage since it started the journey in the mobile segment. Now, the company isn't even in the list of top five smartphone vendors in the world. However, the Finnish handset manufacturer succeeded to grab second notch globally in overall mobile handset shipments as of September 30 this year.
Despite Nokia could see a beam of light on the other side of tunnel in India. Here, the company has decided to launch the world's cheapest Windows Phone-powered Lumia 510. The device features 4-inch WVGA (800 x 480 pixels) display, 5 MP rear camera, 800 MHz Qualcomm Processor with just 256 MB RAM, Windows Phone 7.5 and 4GB internal storage.
It's said that Lumia 510 will be supersede of Lumia 610, which was introduced in the country in July this year. Lumia 510 will be available in India with a price tag less than INR 11,000. Indeed, the company is endeavoring to lure significant number of users by offering the device at very affordable price tag.
According to a recent report from CMR India, 102.43 million mobile handsets were shipped in first half of this year in the country, showed off 16.6% growth compared to the same period of the last year. In addition to this, 5.5 million smartphones were shipped by vendors in the first half of 2012.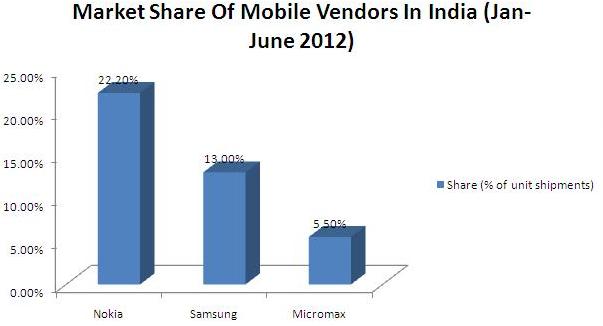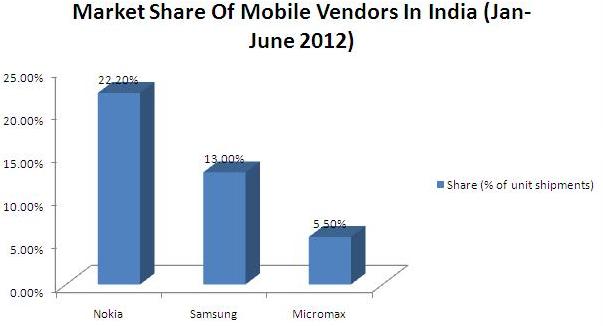 Interestingly, Nokia was the leading mobile player in India with 22.2% markets share during six months period ended June 2012, followed by Samsung with 13% share.
In smartphone segment, Samsung led with 41.6% market share in first half of the this year, followed by Nokia and BlackBerry handsets maker RIM with 19.2% and 12.1% share respectively.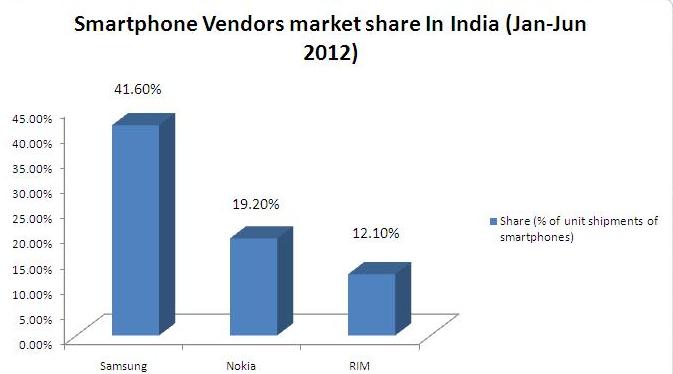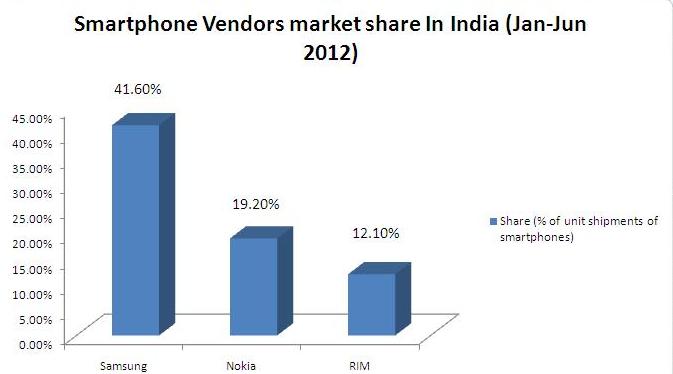 Google's Android platform dominated among mobile OS with 56.4% market share in terms of unit shipment during six months period ended June 2012, followed by Nokia's Symbian with 17.4% market share, Blackberry with 12.1%, Bada with 8.5%, iOS  with 3% and Windows Phone/ Windows Mobile with 2.6% market share.
It's pretty clear, Symbian is still second most preferred smartphone OS in the country after Android. Nokia ranked first in terms of mobile handsets shipments and second in smartphone segment in the country during first half of this year. Of course, Indians have still faith on Nokia and the Finnish handset maker could leverage on its brand value in the country.
Indian smartphone market is still nascent and there's a huge scope for vendors—20 million smartphones are expected to be shipped by the end of this year. Moreover, Nokia is trying to make stronghold in the country and definitely, it will try to regain its global market share taking advantages on Indian market.