Until Q2 2012, Apple unilaterally dominated Tablet segment, but now, the scenario is changing. Users are now interested to own high-featured Android powered tablets at very affordable price. According to a recent report from Strategy Analytics, just 24.7 million Tablets were shipped around the world in Q3 2012, dropped from 25 million shipments in Q2 of this year. Apple could manage to ship 14 million units of iPad in Q3 2012, down from 17.2 million shipments in the previous quarter.
Apple's Tablet Market Share Declined In Q3 2012
Apple's market share in Tablet segment dropped from 68.2% in Q2 2012 to 57% in Q3 of this year, while Android's market share (in Tablet segment) grew to 41.3% in Q3 2012. A year-over-year growth in Tablet shipments was sluggish in Q3 2012; grew by just 43% in Q3 2012 compare to the same quarter of the last year. In comparison, Tablet shipments grew 289% annually in Q2 2011.
Somehow economic uncertainty and rumors about the arrival of low-priced Tablets in Q4 of this year have affected to the shipments of Tablets in the last quarter. Apple's iOS (Tablet) market share plunged by 7% in Q3 of this year from 64% in Q3 of the last year, on the other side, Android showed off 12% Y/Y growth in Q3 2012.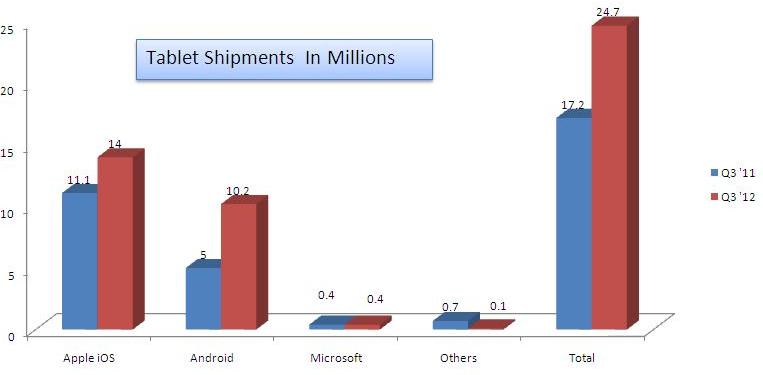 Microsoft Could Be A Big Threat For Apple In Tablet Space
In Tablet segment, Android is main competitor of iOS and other platforms are just struggling to make their presence in the market. However, Microsoft succeeded to grab 1.60% market share in Tablet segment in Q3 2012, down from 2.30% market share in the same quarter of the last year. This time, Microsoft has betted a lot on its 'Surface Tablet' and it's expected that the company could grab 27% of Tablet market share by 2016. Surface Tablet has been designed by keeping business professional in mind and currently, 91% of professionals (those having Tablet) own iPad Mini. Of course, Microsoft has tried to clinch Apple's Professional clients by integrating 'Office' features and docked clamshell keyboard on its Tablet. It's clear that Microsoft's Windows 8 OS could be a big threat for Apple's iOS in upcoming years along with Google Android.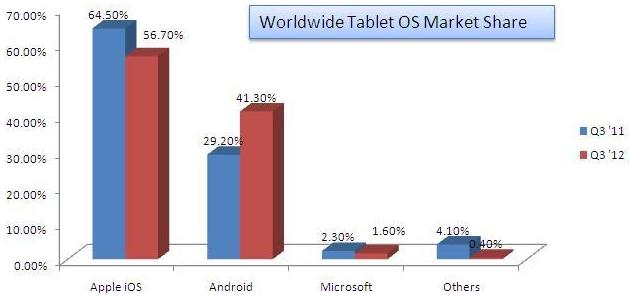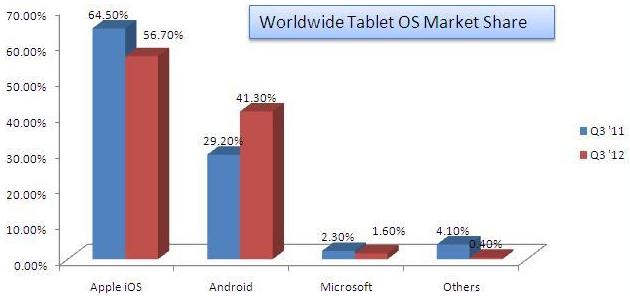 According to an IDC report, Tablet shipments augmented by 33.6% in Q2 2012 compare to the previous quarter of this year due to intensive demand of 'Retina Display' new iPad;  in Q2 2012, Apple shipped 3 million new iPad within three days of its availability. In Q2 2012, Samsung and Amazon shipped 2.4 million and 1.2 million respectively. Undoubtedly, at present, none of Android Tablet partners are even near to the Apple's iPad in terms of shipments. But, it's not possible for Apple to retain its supremacy in tablet segment.
Android Is Gaining Tablet Market In Emerging Countries  
Google introduced its 7-inch Nexus 7 Tablet in late of June this year that boosted Android market share in Q3 2012. In the emerging market like India, where tablet shipments increased 673% Y/Y in Q2 of 2012, Android dominates the whole market unilaterally. In Q2 2012, Micromax led the market with 18.4% market share—introduced Android powered Funbook Tablet this year.
At present, slew of Android powered Tablets are available in the market at the very affordable price tags including Google Nexus 7, Amazon Kindle Fire HD and more. Tablet market is still nascent in emerging countries and users are willing to own low-priced Android Tablets. In Q4 2012, Apple is betting on its 'iPad Mini', but it's quite expensive compare to 7-inch Android tablets and also, some low-priced Android Tablet of this category are even better than Apple's smaller Tablet in some aspects.