Microsoft has send us the invitation for "Windows 8 launch in India" event scheduled for 31st October in Hotel ITC Gardenia Bangalore. Though, the official global release happened on 25 October but Windows 8 India launch event will offer an opportunity to us to have hands-on experience on 'claimed' completely finished Windows 8 and wide range of Windows 8 powered products, including Microsoft Surface, from Microsoft partners like PCs, laptops, Ultrabooks etc. Microsoft India Chairman "Mr. Bhaskar Pramanik" will be pulling the certain off from Windows 8 in India.
Though, internet websites are flooded with Windows 8 reviews, images, hands-on videos, Surface review etc but it would be interesting to see whether Microsoft has any 'cheery-on-ice cream' to woo Indian users. Also, keeping in the mind that India is largely Intel dominated market, we won't be surprised if Microsoft introduced Windows 8 Pro Surface at the event. To satisfy and enlarge its reach among users, Microsoft has released Windows 8 in two different flavors – Windows 8 RT and Windows 8 Pro. Windows 8 RT has been primarily developed to run over ARM chipset – an effort to release low-cost variants of Microsoft Surface. However, Windows 8 Pro is company's traditional styled OS launch designed for Intel environment.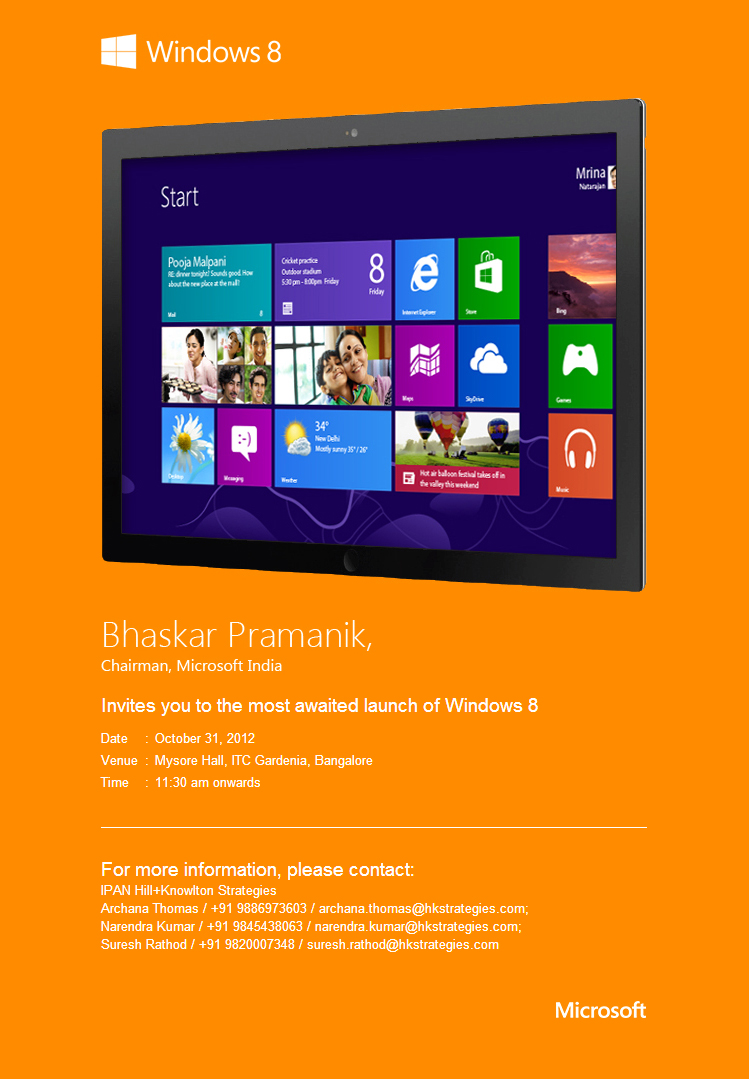 Besides, like recently held Windows AppFest event, we could also see few amazing Windows 8 Apps specially designed by Indian developers  and for Indian users keeping Indian infrastructural challenges and scenarios in mins.
Company has planned to invest $1 billion in promotional activities to ensure the whooping success of Windows 8. Definitely, by the first look, Windows 8 as well as Microsoft Surface looks promising but few post-launch reviews and hands-on articles are turning out disappointing for Microsoft. In fact, few analysts have claimed that in spite of superb hardware and design, Windows 8 has failed to complement Microsoft Surface.
It was almost 10 months when we first identified that market could upset the plan of Windows 8 for Microsoft as most of the enterprise users may not switch to Windows 8 immediately or anytime soon. While another off-putting recent report has claimed that only 33% Windows users are willing to migrate to Windows 8 platform compare to 66% who were willing to migrate from XP at the time of Windows 7 launch in 2009. Whatever it may be, its too early to judge and defiantly Windows 8 deserves some time to prove itself in the market.
We will be live from 'Windows 8 launch in India" event from Bangalore at 11:30 AM. Putting the fingers crossed in order to expect something unexpected.