Digital Content industry is being driven by online advertisements largely and Operating Systems (OS) have got a major influence over advertisement revenue coming from online Ad impressions and clicks; we know it as eCPM and eCPC respectively. Interestingly, besides Smartphone market, Apple has emerged as a clear winner in mobile advertisement space, controlling 46.37% of total monetized smartphone traffic In Q3 2012, followed by Google's Android with 25.66%.
According to a recent edition of the 'State of Mobile Advertising' report from Opera iOS leads the monetization space with an average eCPM of $1.64, beating its closest competitor Google's Android by 100% margin which is reportedly performing with an average eCPM of $0.88. Interestingly, troubled RIM's OS is attracting eCPM of $1.06 – 30% higher than Android OS.
Besides, Apple iOS is securing 58.40% of total mobile advertising monetization revenue – a 3x higher than Android and 16x higher than RIM OS.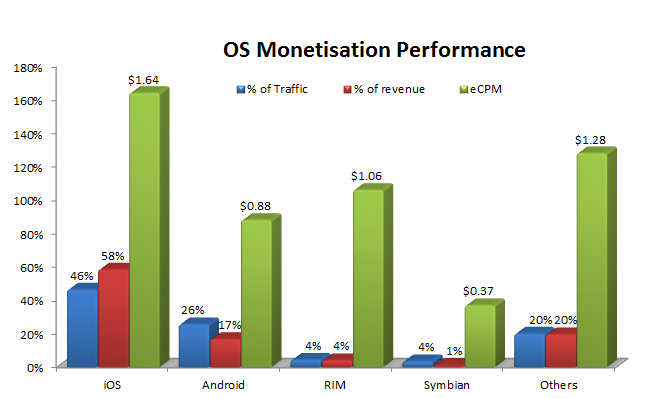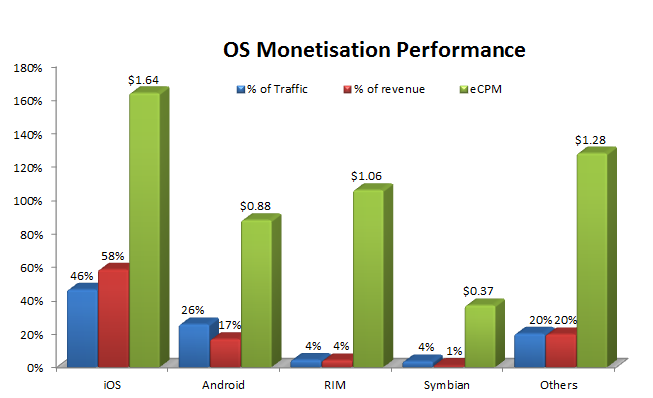 Apple iPad Inventory: Publishers Should Be More Concern About
The highest eCPM out of all mobile devices is being served by iPad. Almost 4 folds higher eCPM rate allows publishers to pocket more revenue than any other mobile device. Though, the overall traffic by iPad is quite gloomy but Apple will strengthen its Tablet market share with the launch of iPad Mini. Currently 27% of global Tablet market is being served by 7-inch tablet and due to absence of Apple's bet, Google Android is almost dominating this space. Apple iPad Mini is expected to cover atleast 50% of market share in next 3 -4 months. And the growth of iPad ( so for iOS) would be at the cost of Android. Consequently, iPad will record improved traffic percentage is coming few months which will have direct positive impact over the earning due to highest eCPM rate of iPad.
However, with the emergence of Microsoft's Surface tablet which is expected to control 27% of Tablet market share by 2016 end, it would be interesting to see who succeeds to make bigger hole in advertisers pocket.
Finance & Investment Pays Out Highest For An Impression
When it came down to drill category based mobile monetization share, its Finance and Investment category Ads that generate highest per impression revenue for publishers, followed by Games. This clearly depicts those publishers who are more inclined towards 'financial affairs' are more respected for their invested efforts.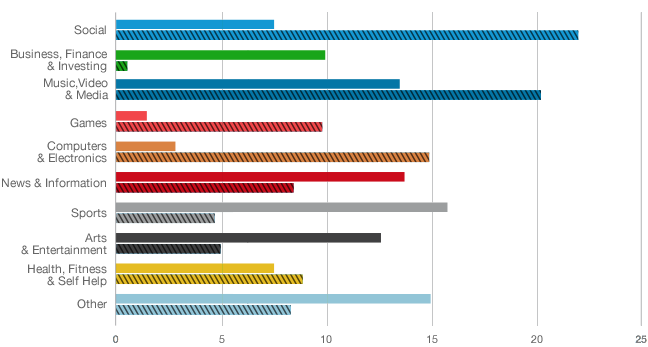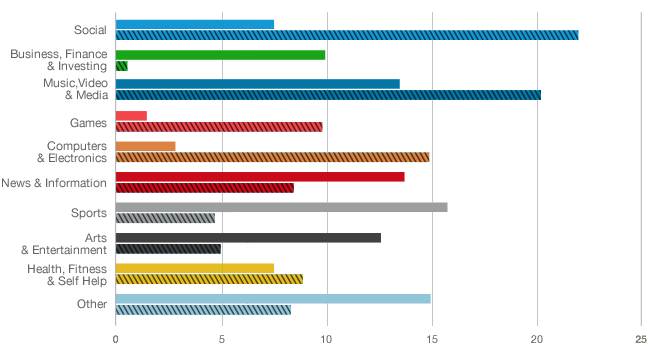 Interestingly, Games and Music categories Apps are the most downloaded app on iPad – Angry Bird rules the chart. And, the combination of Gaming App + iPad could make publishers to record the highest earning from their mobile inventory monetization.