With the launch of iPad Mini, Apple's CEO has initiated the process that could possibly end up proving his predecessor wrong about small size Tablet market. A latest report from HIS iSuppl – a research firm – claims that 7-inch Media Tablet market will be doubling its growth year-on year till 2013. The report has been released at the time when Apple was busy in inducting its iPad Mini event – first ever 7-inch tablet by Apple.
The report claims that 7-inch Tablet market is bound to get doubled in 2012 reaching 34 Million units' sale from 17 Million units in 2011. Interestingly, the addition of Apple iPad Mini will heat the market up to record close to 96% growth in 2013 reaching 67 million units.Like Apple's other iPad versions, iPad Mini is expected to emerge as the main driver of 7-inch Tablet market.
Smaller Tablet Market To Grow
The contribution of smaller Tablets (7- 8 inch screen size) in overall Tablet market is expected to account 28% market share in 2012, up from 24% in 2011. Apple's capability to generate and meet the demand is the prime reason behind such projections.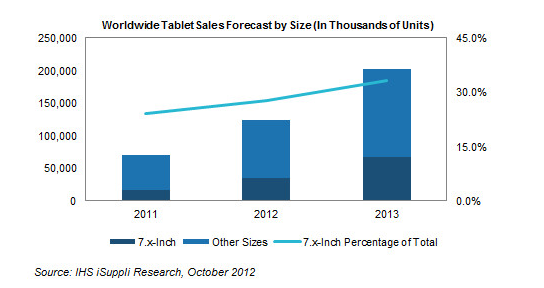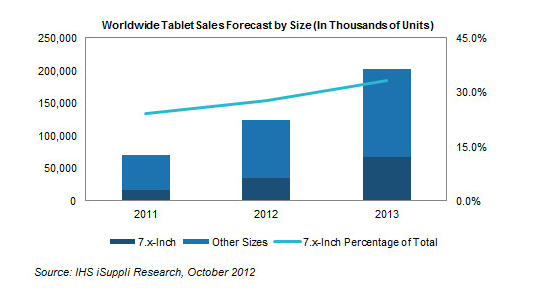 Due to cost-conscious market, Asia is the most preferred target market for smaller and low cost Tablets. And, following to launch, if Apple could make the iPad Mini available in the continent soon, the contribution of smaller Tablet in overall Tablet market could surge up to reach 34% in 2013.
Did Steve Jobs Miscalculated The Market Potential
If we believe over the report and if Apple current would manage to meet market expectations from iPad Mini, Tim Cook would atypically prove late Steve Jobs wrong who once claimed users were not interested in smaller Tablets.
Unfortunately, the market's sizable response to 7-inch market proved that he mis-calculated the potential of smaller Tablet.
Apple Tablet competitors, who were enjoying in 7-inch space, have now got the reason to worry. With one inch screen size distinction, Apple has forced them to go back to design table only to start from the scratch instead of producing a 7-inch tweaked competitor.