Of course, Microsoft is finally going to launch Windows 8 on October 25 and the company has a huge expectation from its innovative OS. But this time, businesses are reluctant to adopt Windows 8 OS immediately after its release. According to Forrester analyst–Frank Gillett–, Windows 8 will get slow start in 2013; It will "just stop shrinking", but demand of Windows 8 powered devices to mount up by 2014.
Windows Phone To Emerge As Third Biggest Smartphone Platform:
Microsoft is expected to be strongest player in the PC segment despite of increasing demand of Apple's Mac devices. But in Tablet segment, it will play a role of contender only. Microsoft will have stronghold in PC shipments with 95% market share in 2012, but combined sales of personal devices (including Windows 8 and Windows Phone/Windows mobile devices) will shrink to 30% by the end of this year. Windows Phone will emerge as third largest player in smartphone segment by 2014. See the graph below for unit shipments of Microsoft's devices: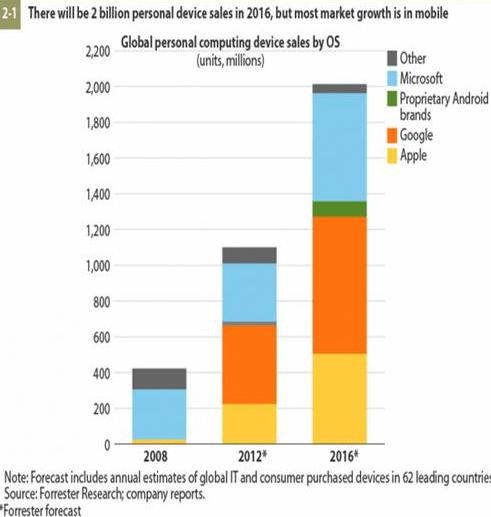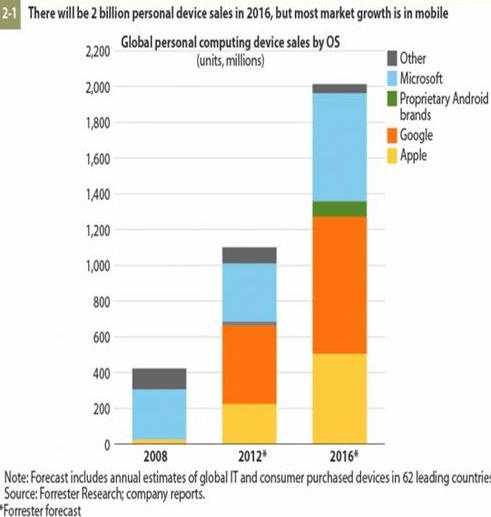 In 2016, 2 billion personal devices are expected to be shipped and smartphone will mark strongest growth among all segments. Undoubtedly, mobile market has shown rapid growth in last five years, but Microsoft reacted to the trend little late. By 2016, Google's Android will be at top position in smartphone segment, while iPad will dominate in Tablet segment.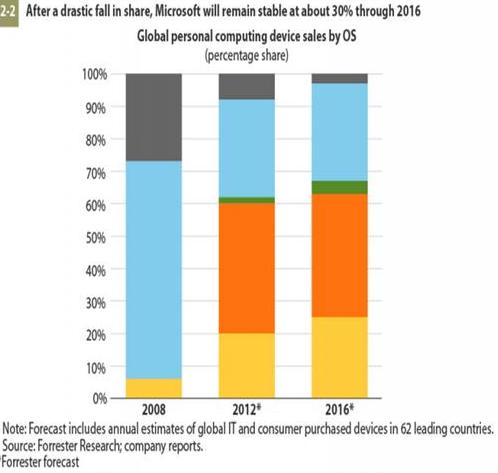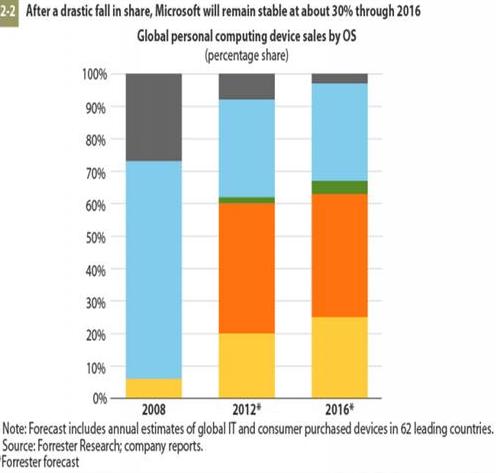 By 2016, Microsoft is estimated to have 27% of market share in Tablet segment in terms of shipments, on the other hand, it will succeed to grab 14% of smartphone sales—however, it's still doubtful.
But according to a IDC report, Windows Phone/Windows mobile will clinch 19.2% market share by 2016, while Android will reach at saturation stage by the end of this year.  Interestingly, market share of Android will plunge to 52.9% in 2016 from 61.0% in 2012, while market share of iOS will decline to 19.0% in 2016 from 20.5% in 2012.
PC Shipment Declining:
Shipments of Tablet are expected to augment at compound annual rate of 28% to 416 million by 2017, up from 121 million units in 2012. Microsoft's Surface Tablet has not been used by anyone (except Microsoft) around the world so far, and really it's difficult to speculate about adoption of the device. However, Microsoft has yet to prove itself in the smartphone segment and now, it has directly jumped into the Tablet segment. Of course, it has long experiences of selling Xbox, but selling 'the gaming consoles' and Tablets are two different things.
On the other side, PC shipments declined by 8.3% in Q3 this year compare to the same quarter of 2011. Demands of PC devices have continuously been declining since last couple of years in matured markets, besides  emerging markets also showed off feeble  interest in Q3 2012. Indeed, there's tough time ahead for Microsoft because the demand of its core business (personal computers) is steadily declining while it has poor hold in smartphone and Tablet segments.