Microsoft Surface Tablet is just 10 days away from official launch and various sources have started spilling beans of it. Today, company first revealed the price of its 3 variants and now the first ever TV Ad is rocking the world. Though, the first look of Microsoft Surface makes the tablet quite impressive but what is striking more here is its unique magnetic 'cover-cum-keyboard' with inbuilt stand.
Microsoft Surface Price: $499 to $999
Microsoft Surface will be available for $499 for 32 GB version and for $599 with 'own-styled' cover cum keyboard. While, the Intel powered variant of Microsoft Surface would start from $999. Though, Microsoft has denied stating anything over the such rumors but speculations are being made that the company could introduce only Wi-Fi version of Surface initially rather than introducing whole range. If we believe on rumors, then company has intelligently priced the Surface keeping it directly against Apple iPad – which is tagged with almost similar price.
But, if Microsoft really wants to win the battle against Apple iPad, it will have to play the cards in well-calculated manner – from the very first move. Therefore, rather than cutting the cost of $999 version or 3G version at later stage, it would be much ideal move for Microsoft to keep the price low from the beginning like Amazon.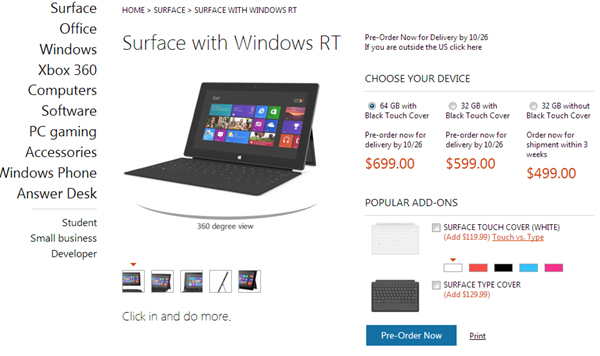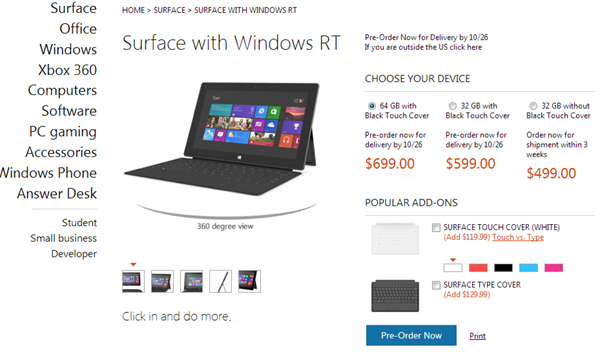 Microsoft has already started taking pre-orders of Surface through Microsoft Store which list 3 variants of it – 32 GB without cover, 32 GB with cover and 64 GB with cover tagged with $499, $599 and $699 respectively.
Microsoft Surface Overview Video
Though, there is no detail analysis available till that could speak about Surface functions, performance etc but Microsoft has released 2 videos today; one with focused over 'unique designed' "surface cover cum Magnetic Keyboard" and other a simple Tv commercial to woo people at the time of launch.
With the launch of Surface along with 'cover cum keypad', Microsoft is making an effort to transform itself from a Software company to a successful 'integrated product development company' – a space dominated by Apple.
Surface With Windows RT vs Windows 8
Besides all, Microsoft has decided to launch Surface with classes of OS – Windows RT and Windows 8 – a tradition which not new. While Windows RT version Surface holds almost everything but Media Player, Media Center, Remote Desktop and some network restrictions. also, you can only install Apps from Windows Store in RT version of Surface unlike Windows 8 where you can install apps on desktop.