On October 25, Microsoft is going to host an event for Windows 8. Besides, it's also expected the Windows Phone 8 manufacturers including Samsung, Nokia, HTC and other could release their smartphones by the end of this month. Of course, users  will have more Windows Phone devices to opt for.
According to a survey report from ChangeWave (conducted over 4,270 north-American respondents), nearly one-in-ten (9%) are likely to own Windows Phone 8 devices in the future—2% of them are 'very likely' to own, while 7% 'somewhat likely'. This time, Microsoft is quite bullish towards its apps development and Windows Phone Marketplace has reportedly more than 100,000 apps. 36% of respondents (those were willing to own Windows Phone 8 device) opted Windows phone 8 smartphone due to integration of Windows Apps with the device.
Interestingly, nearly half of all respondents (45%) those planned to buy Windows Phone 8 smartphone did not know from which manufacturer they would be going to purchase the product. However, among rest of 55% respondents (planned to buy Windows Phone 8 smartphone),  45% selected Samsung's ATIV S, while 35% opted Nokia Lumia 920.
More importantly, Nokia has played a significant role in the prevalence of Windows 8 device around the world. The company shipped 4 million Windows Phones in Q2 of this year. Apparently, we have already explained how Samsung could reap off Nokia's endeavor on Windows Phone platform. Of course, Samsung could leverage on its brand value and that's why majority of respondents have opted Samsung ATIV S.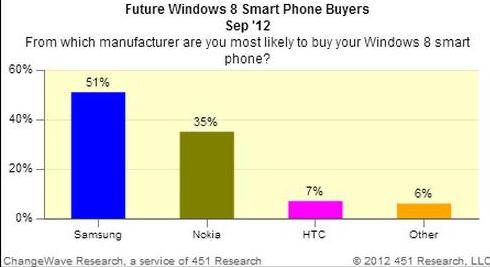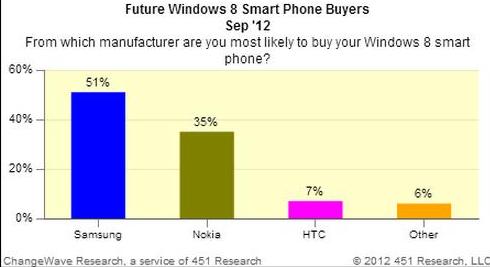 Windows Phone/mobile shipments showed off 115.3% year-over-year growth in terms of smartphone shipments in Q2 of this year; 5.4 million Windows Phone devices were shipped in Q2 of this year, up from 2.5 million in Q2 of the last year. Windows Phone/Mobile succeeded to grab 3.5% of global market share in the mobile OS segment till the end of Q2 2012.
Comparison Between Samsung ATIV S And Nokia Lumia 920
Samsung ATIV S is equipped with dual-core processor clocked at the speed of 1.5 GHz along with 1GB on-board RAM, 8.7 mm brushed aluminum chassis, 4.8-inch Super AMOLED display backed by Gorilla Glass 2, 8 MP autofocus rear camera, 1.9 MP front-facing camera for video calls and 16 GB and 32 GB in-built storage along with Micro SD card.
On the other hand, Nokia Lumia 920 will have same Windows Phone 8 OS, 1.5 GHz dual-core processor, 1 GB of RAM, 32 GB of device storage, 4.5 inch HD display, 8 MP PureView rear camera and 1.3 MP front-facing camera.
Here, it's really tough to find which one is better either Lumia 920 or ATIV S. In other word, Lumia 920 is no way vulnerable than Samsung ATIV S. Anyway, Samsung is the world's largest smartphone vendors, shipped 58 million smartphones in Q3 2012, whereas, Nokia is second largest mobile handset manufacturer and it has long experience of working with Microsoft on Windows Phone platform.