The adoption of Smartphone is surging across the globe as people are ditching their traditional styled 'Feature Phone' in search of higher productive and MFD (Multi Function Device) features. By 2016 Smartphone is expected to capture nearly one-third of the mobile handset market with the help of Asia-Pacific region as the biggest contributor with 44% CAGR (Compound Annual Growth Rate). India and Indonesia will the driving force behind such growth due to the factor of population by 2016. Currently, only 2.72% of Indian population holds Smartphone, while its little higher in Indonesia where 7.70% people have Smartphone.
Mobile Advertisement Trend
According to a latest report from Milleniummedia – a leading independent mobile advertising platform provider – 'App Download' and 'Enroll/Join/Subscribe' are the top 'post-click' action defined by advertisers in their mobile ad campaigns. In Q2 2012, 44% campaigns result in downloading an app while 23% campaigns enforce users to Enroll/Join/Subscribe for advertisers' services like Newsletters, Mailing List, Courses etc. This latter type of campaigns is primarily being preferred by Education industry.


Interestingly, only 6% of such campaigns pushed mobile users towards actual business – M-Commerce. This clearly depicts that advertisers don't want to hit the nail directly and believe in consumer satisfaction before he actually buys a product.
Mobile Advertisers Goal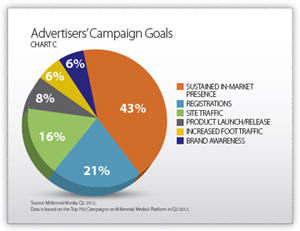 Mobile advertisers don't believe in brand awareness through such campaigns as only 6% of the campaigns carried goal of 'Brand Awareness'. Engagement aspect like 'Registration' was the second most preferred goal for Advertisers that secured 21% of overall campaigns' goal in Q2 2012. Around 16% advertisers focused on increasing site traffic via their campaigns' goal against 8% who run their campaigns to generate awareness about their 'Product launch' or 'Product Release' .
Who Were Top Targeted Audience
The report claims that most of the campaigns were designed keeping target audience in mind – which is quite logical. IT Decision makers, Gadgets Geeks, Movie Buffs and Moms emerged as the main targeted audience from the campaigns run in Q2 2012. This clearly prostrates that IT and Gadgets are still lucrative business for advertisers and they believe that it's worth to make an investment over advertisement.
Mobile Ads Verticals
Automotive manufacturers are the strong believers in mobile ads as per the report. These are the one who used mobile ads heavily to promote and generate excitement towards their new brands and models. With 372% y-o-y growth in Q2 2012, Automotive industry were the main contributors in mobile ad revenue beating Travel Industry with the margin of 3 folds. Surprisingly, Technology vertical failed to show any impressive growth and stayed with just 79% y-o-y growth – probably due to global melt down and investors' not-so-lucrative response towards I.T. companies.
Handsets and OS Trends In Mobile Ads
Not surprising enough, Smartphones generated the major chunk of mobile ad impressions in Q2 2012. 74% of mobile ads were originated through Smartphones against 19% from Non-connected devices (Tablets etc). The number of smartphone users is expected to reach 1.7 Billion by 2017 globally and explosive growth in Tablet segment is also providing flexibility to mobile advertisers to place big size ads specially designed for big screen (tablet screens).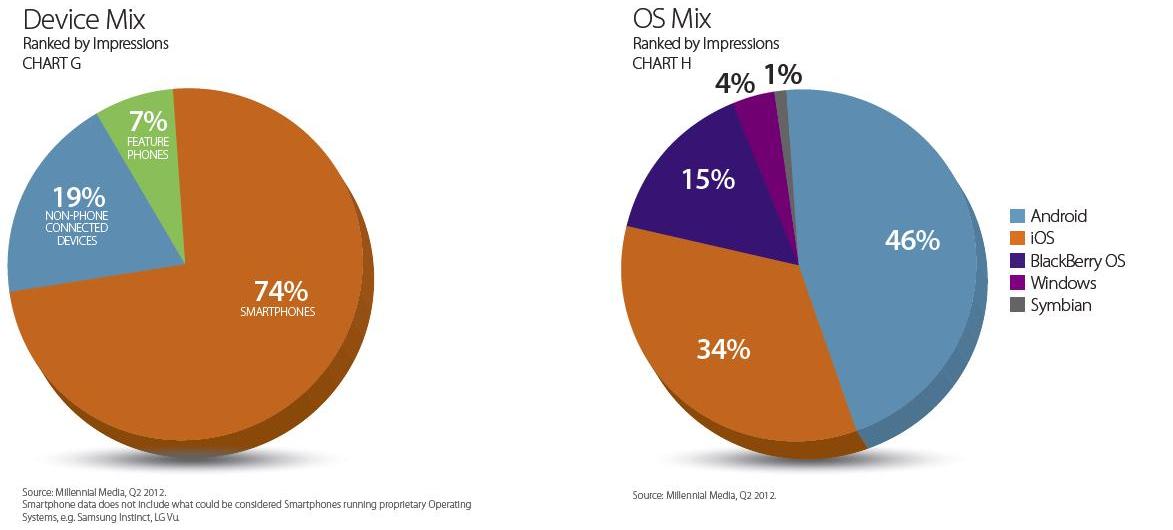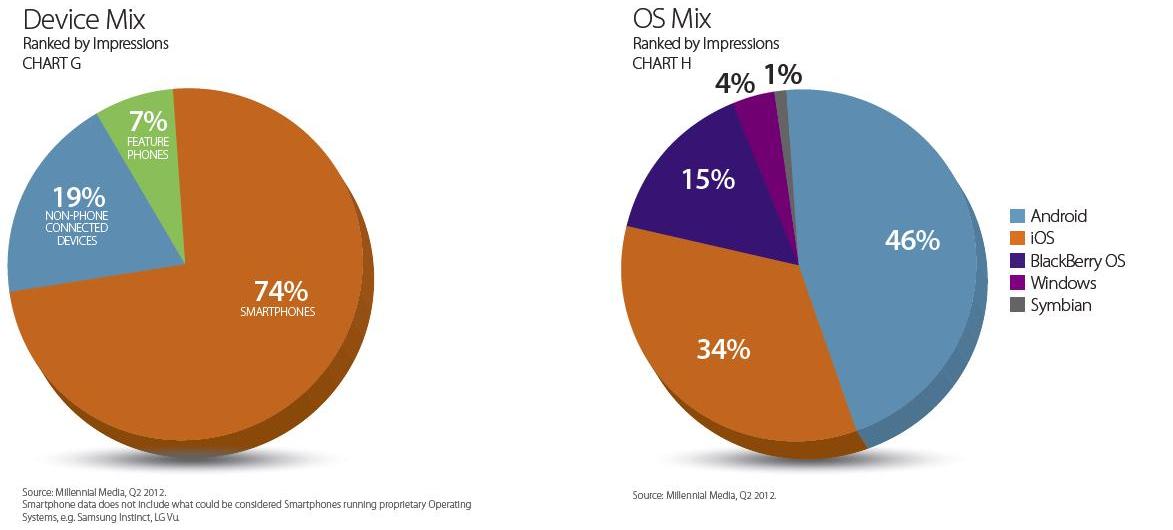 Though, there is a significant gap in terms of OS market share between Apple iOS and Google Android, mobile ad impression market share says not-so-similar story. Android controlled 52.2% of smartphone OS markets while iOS remained satisfy with 33.4%. However, in Ad impression, Apple narrowed the gap with 34% mobile ad impression market share against Android that managed to influence only 46%.