Undoubtedly, demand of smartphone is continuously increasing day-over-day. According to a market research firm— Millennialmedia—one third of the world's population will have smartphone by 2016, growing with compound annual growth rate of 37%. Asia-Pacific shows off highest (44% ) CAGR in 2010-2016, while the growth rate in North-America is just 20%. However, Europe, Middle-East and Africa (EMEA) are expected to get over with a CAGR of 36% during the same period.  In EMEA region, India and Indonesia are speculated to have incredible CAGR in 2010-2016.
In Q2 2012, mobile advertisers were quite conscious with their campaign engagement methods and goals. 44% of the post-click campaign actions in Q2 2012 targeted  to application download, while enroll/join/subscribe, m-commerce, social media and site research were targeted for 23%, 6%, 11% and 18% post-click campaigns respectively. Of course, marketers are more willing to encourage mobile users for application download so that they could achieve better user-experiences. In Q2 2012, marketers targeted customers to visit their sites for further details through its post-click campaigns.


In Q2, 2012, mobile advertisers focused on sustained in-market presence (43%) and registration (21%), while they targeted 16%, 8% and 6% to site traffic, product launch/release and brand awareness respectively.
Top 20 Smartphone Devices In Q2 2012 (Ranked By Impression)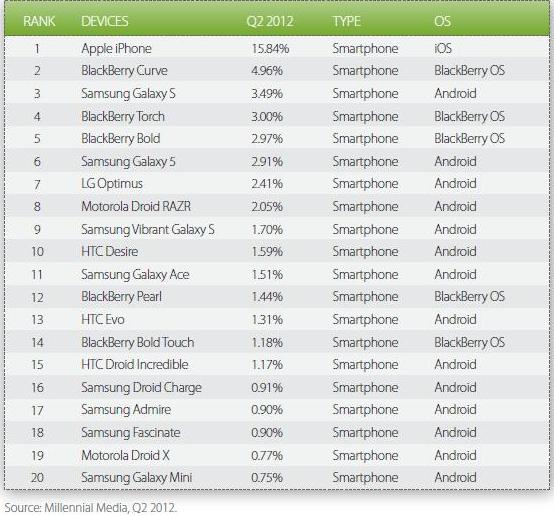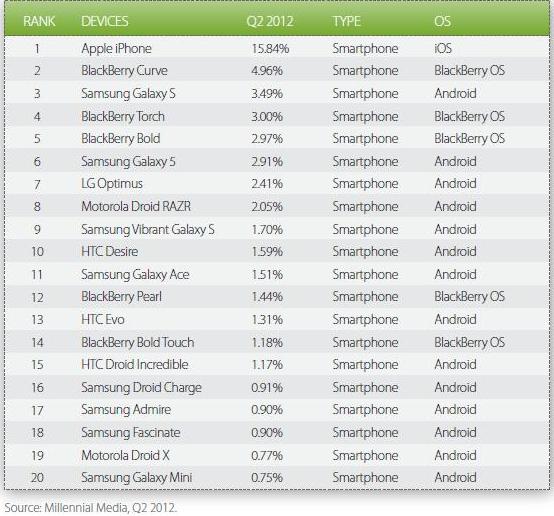 Apple's iPhone ranked first in terms of impression, while BlackBerry Curve and Samsung Galaxy S succeeded to grab second and third positions in the list. On thing is quite noticeable, among all OSs, just BlackBerry, iOS and Android's devices could make their presence in the top 20 list.
On the other side, Apple was ranked as top smartphone vendors in terms of impression, followed by Samsung, RIM, HTC and Motorola, those ranked second, third, fourth and fifth respectively during Q2 of this year.
In Q2 2012, top targeted audiences were IT decision makers, gadget geeks, in-market auto intenders, business travelers, moms, movie buffs, DIYers, mobile switchers, small business decision makers and entertainment fans.
In device segment, smartphone dominated with 74% of impression, followed by non-phone connected devices and feature phones with 19% and 7% impressions respectively.  Apparently, Android dominated OS segment with 46% impressions, followed by iOS and BlackBerry OS with 34% and 15% impressions respectively.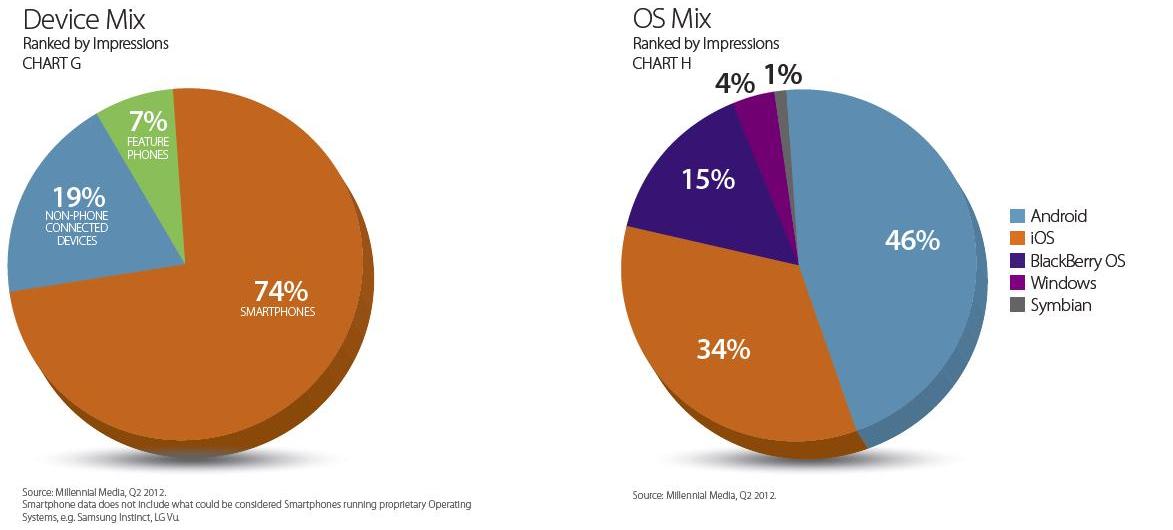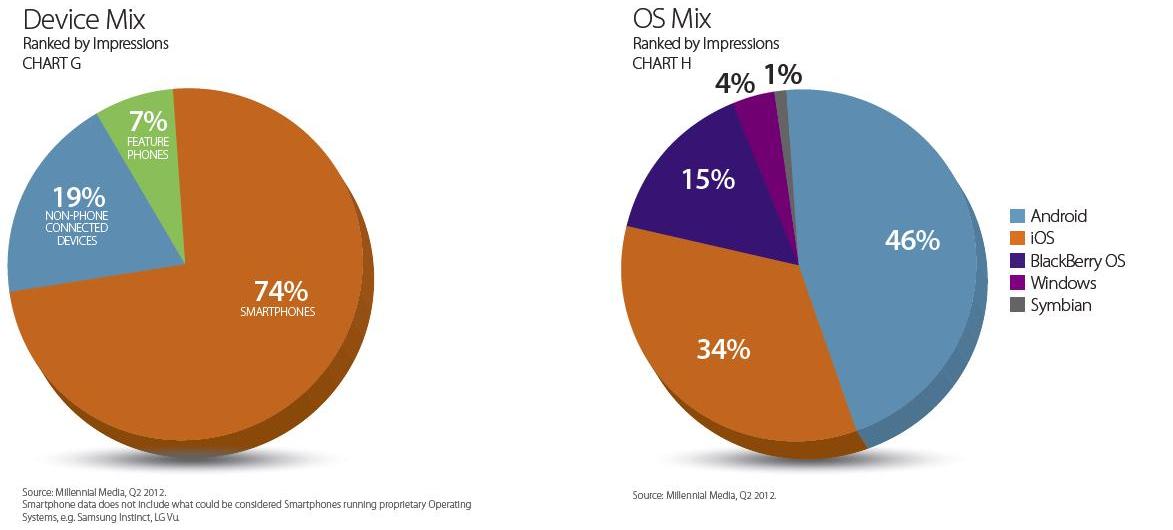 Mobile vertical spending on Automobile in Q2 2012 grew up 372% compare to same quarter of the previous year, followed by personal &  home services, education, travel, CPG and Technology with 353%, 222%, 123%, 113% and 79% respectively.
In terms of Tablet impression,  Apple's iPad ranked first in Q2 of 2012, followed by Samsung Galaxy Tab, Amazon Kindle Fire, Acer Iconia and Motorola Xoom respectively.
Interestingly, more numbers of male users are using iPad compare to female–53% of iPad users are male against 47% female users. Likewise, among all Android Tablets users, 51% are male users while 49% are female users. On the contrast, 57% of Kindle Fire Tablets are being owned by female users, while just 43% male users are owing the devices.
Top 10 Mobile Application Categories:
In Q2 2012, apps developers were more focusing to games-oriented apps, followed by Music & Entertainment, science & technology, mobile social media, communications and others. Of course, demands of games apps are quite high, however, music and entertainment comes on the user's second priority.