The challenges and tough time is, apparently, not going to reach to and end for Google in social media space. Search giants bet in fastest emerging market Google+ is just not responding as, probably, per management expectations while launching it against Facebook. As per the new data published by GlobalWebIndex, Google+ is failing to fascinate internet users in many countries even after 15 months since it was launched.
According to new data, Google+ has managed to influence only 6% of total internet users of the world's biggest social media country U.S. which has been the prime source of explosive growth for other online networking sites including Facebook. Though, Google+ has been adopted by more 21% of global internet users – which is just half of Facebook – the active number of Google+ is quite lower than adoption number.
The emerging markets like India and Brazil are the main supporter of Google+ growth. 38% internet users, who logs-in atleast once a month, use Google+ while Turkey, Brazil and China hold 29%, 28% and 25% respectively.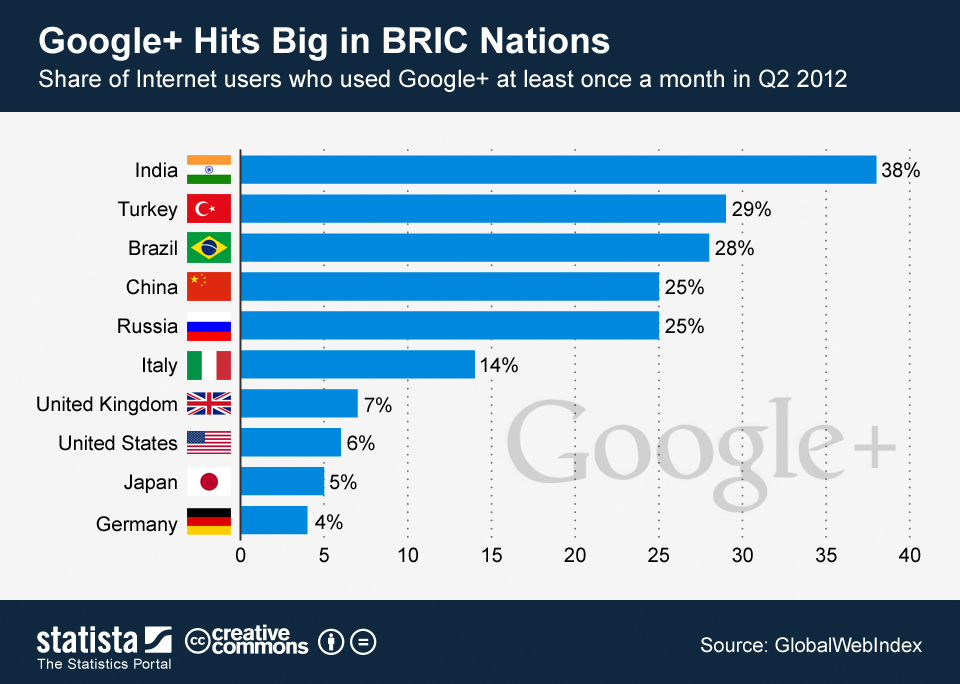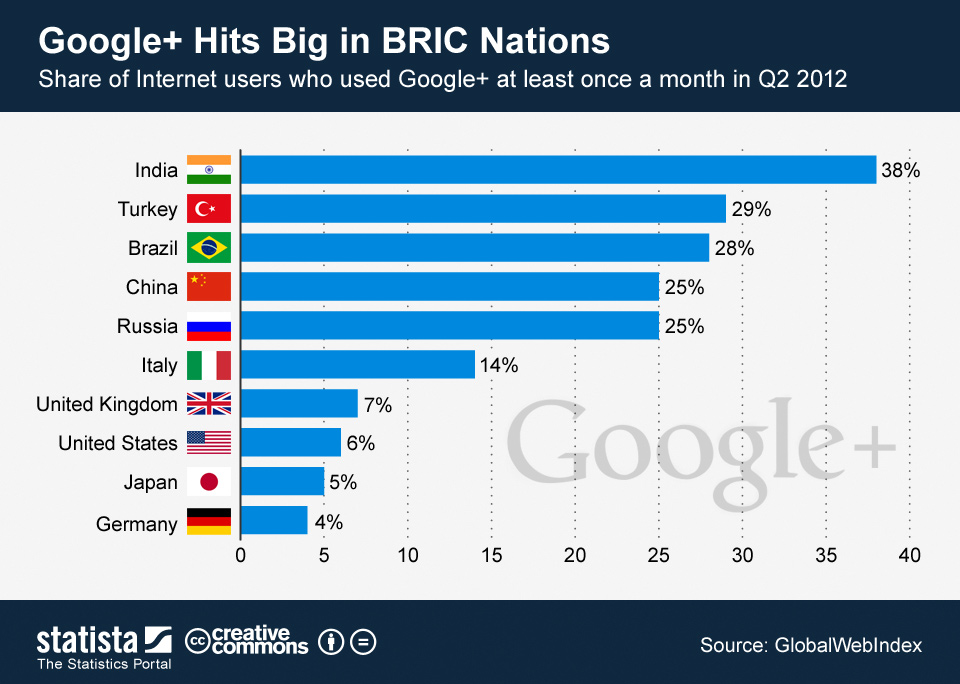 Unfortunately, few of the biggest social medi nations like USA, UK and Japan have next to none influence of Google+ where only 6%, 7% and 5% internet users use Google+. This is really devastating for us and for Google, obviously.
Why So Restlessness For Google
USA and UK are the countries which contribute highest in Google search ad revenue and if Google+ fails to power internet users from these countries soon, it will only be Facebook which will be growing at the cost of Google.
But Google's trouble doesn't end here. If you remember Mark Zuckerberg statement in an event recently "we're basically doing 1 billion queries a day and we're not even trying. That's one obvious thing that would be interesting for us to do in the future."
Google knows pretty well that in coming years social media would hold the grip of search and social activities will have larger influence over search results than ever before.
Facebook Story – Top Players Stand By Top Title
Have a look over Facebook users base and their geographic. U.SA. and U.K. are among top 10 drivers with 54.16% and 52.56% penetration ratio. Mind it, it's not Internet users penetration, its population penetration which means internet penetration ratio would be higher.
By the end of 2012, U.S. is expected to contribute the highest in digital ad spending; with $39.50 billion U.S. stand at the top along with Japan and U.K. with $9.60 Billion and $8.64 billion respectively. Out of global $107.33 billion digital ad revenue, U.S. and U.K combined are expected to contribute $48.14 billion – 48% of total digital ad spending.
Facebook has already reached to the pockets of big ad investors while Google has got a long way to go. One more important fact which is inevitable to mention that Google+ users spend quite lesser time over the network against Facebook comparatively. Therefore, the influence and engagement of Facebook is much higher, so of Advertisers and ads.
While Google is doing everything possible – and probably something behind the curtain – to have larger active users base from Top advertisement market, but for now the struggle just continues.. ….