It was due for almost two years and finally it is on roll; Yes, I am talking about Google's take on EMDs which are under penalization process. The search giant has started throwing such domains out of its organic traffic reward. Definitely, it's a big blow for companies and individuals who were riding high with sizable chuck of Google originated organic traffic without carrying much valuable content and style. SEO consultants, experts and bloggers who were leveraging upon automatic content farm creation with the help of various tools are now crying foul.
EMD – What Is In The Name
Before, you start scratching your head lets understand what is EMD. EMD stands for "Exact Match Domain" – a domain that contains most popular keyword or keyword phrase either solely or in conjunction with other word. For an example traveleurope.com, bestairlinefares.com or mostpopularkeywords.com etc. However, there are many sites who claims most popular products' name – e.g. Applegomote.com, AlltimeAndroid.com – come under EMD.
EMD – A Good SEO Strategy Became Evil For Google
Try exploring any of the SEO tips and strategies, SEO gurus will always suggest to opt for EMD as a part of your website or content optimization – till few weeks back. Indeed, it 'was' a definite responsive mechanism producing significant results for websites. Due to admiration and explosive reach of digital contents, companies were betting big time over EMD. Consequently, Google search results started getting influenced by such sites without holding content worth reading or catering to actual keyword phrase. Besides other optimization techniques, the EMD strategy became one of the biggest challenges for Google to counter. The valuation and worthiness of search results were going down, reliable and good contents were pushed to 4 to 5 page level down only to become negligible by internet users.
A rat-race was started among prominent bloggers and web marketers in order to show their efforts at top of Google search result page. And, EMD became one of the biggest ammunition to pull others down.
At the same time, competitors – Bing, Yahoo – also started gearing up and explosive adoption of social media became another daunting task for Google to handle. The ' unrelated and 'unrated' search results started popping up in search queries and internet users started turning towards other sites for faster and exact-match search results. The market share of search query result dived down to 84% from 91% in Desktop and slow-growth in mobile search –despite of accelerated growth in mobile web users – became quite a concern for search titan.
Finally, Google Is Fishing-Out Creepy SEO Actors
After multiple failed attempts to mark its presence in social media space, Google has bounced back – before it's too late – to drawing board only to concentrate more on its revenue generation un-disputed king machine. Now Google wants to serve the contents at top position which could make significant positive impact among internet users.
Google has started prioritizing the links sourced from authentic and branded online properties; no matter whether content is highly optimized or connected with EMD or not.
See what Matt Cutts Twitted on EMD last week.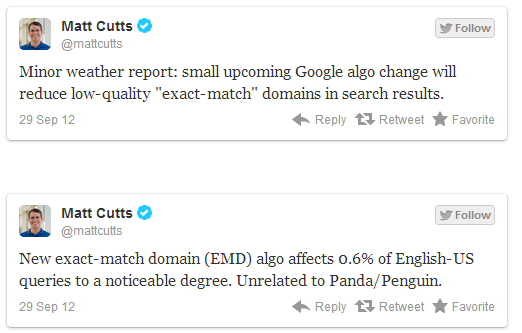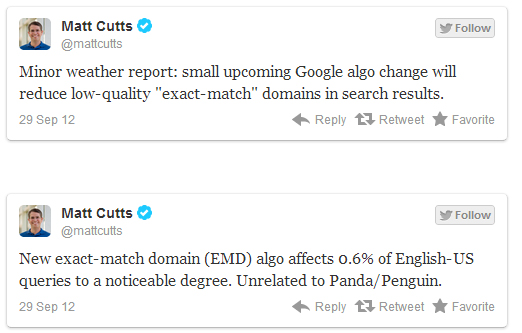 And SEOmoz was quick enough to calculate, so called, 'tiny effect' of 0.6% and to track the traffic of EMD influenced domains post Matt Cutts' tweets.
Google Is Setting Up Fairly Competitive Ground For Contents
I believe that you are among the ones' who are already aware and tracking Google's recent acts and initiatives accordance to SEO. Latest Penguin updates – contain back-link penalization, over optimization penalization, Ghost content penalization etc – were just the starting and EMD is a part of the whole process of setting a competitive pitch for all contents. Google, apparently, guiding and messaging one thing to everyone – Let the best content win.
Facebook Has Influenced Google Initiative
Yes, and it's true. People are spending much more time over Facebook ( so, over internet) than ever before – Close to 1 Billion Facebook users spending 6.35 hours a month- multi folds higher value than Google. The absorption of contents are much higher than ever before among internet users and this has caused – till certain extent – Google to witness more search queries in recent times.
The scenario is not so different in mobile space. The explosive growth and adoption of social media on the go – especially Twitter and Facebook – has supported the growth of Smartphone and mobile internet. More than half billion Facebook users and close to 80% Twitter users are generating 92% mobile search queries for Google.
 Do It Now Or Die Situation For Google
I would like to drag your attention towards Mark Zuckerberg 'tricky' statement – made recently at TechCrunch event;
"we're basically doing 1 billion queries a day and we're not even trying. That's one obvious thing that would be interesting for us to do in the future"
I am sure we all are smart enough to understand what Zuckerberg is trying to convey. And, undoubtedly, Google also read it in right direction.
After loosing repeatedly against Facebook – first Buzz and now Google+ – Google don't want to stay over confident. Therefore, Matt Cutts and team is already on roll to reform their 'algo' behind search results, only to throw quite relevant and informative contents right on the face or internet users.
The overall practice and new updates and algorithm behind search results are really appreciable. Everyone in this world must be awarded and respected towards his hard work, no matter who is standing against him.
I'm sure this would be a tight slap on the face of those canny website owners who believe in content farming backed by heaps of SEO optimization but have literally no value and meaning in their contents. Google is slowly narrowing the passage for their survival and the end of the road is not far away for such contents.