Apple's iPhone 5 is now available in the worldwide market and the company shipped 2 million iPhones in just 24 hours since its availability. Likewise, a sequence of high-end smartphone and Tablets are on the highway to be launched later this year. The scenario has steadily been changing since last couple of years; Now, users in the matured markets are more willing to own the high-end smartphone and Tablets compare to traditional PCs.
If you compare the PC shipments in 2012 with 2009, definitely, you will find an increment in terms of PCs volume, but the growth rate of the device has continuously been declining year-over-year. In 2010, almost 351 million PCs were shipped worldwide, up from about 308 million in 2009—a 13.9% year-over-growth in 2010.
On the other side, the global PC shipments reached to 364.5 million till the end of last year—a 3.7% year-over-year growth. According to IDC's recent prediction, the shipment of PC is going to reach 382.6 million by the end of this year, an almost 5% year-over-year growth.
It's pretty clear from the stats (shown below) that the year-over-year growth of PC shipments is going to rise this year. On the contrary, the growth (in terms of shipments) fell sharply in 2011 compare to the previous year due to extensive flood in Thailand. Just a few months before, I explained how flood in Thailand affected HDD supply chain and PC OEMs. This was the main reason why PC shipments flattered in the Q4 of the last year.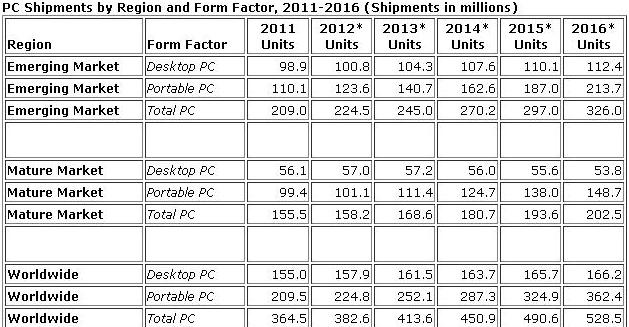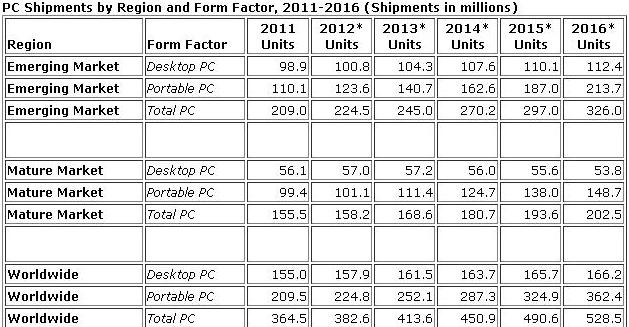 As per the above stats, the demand of PCs has reached to the saturation level in the matured markets. Users in matured markets like the U.S., where consumers and businesses have already PCs, aren't likely to upgrade or expend on new PC devices. Total PC shipments in matured market will touch just 158.2 million figure this year, a 1.7% year-over-year growth.
While other side of horizon,  the shipments of PCs in the emerging markets are going to surge 224.5 million units this year–a 7.4% year-over-year growth–, up from 209 million units in 2011. It's pretty clear that the shipments of PCs in the emerging market are quite higher than the matured markets and of course, the global growth of PC shipment will be driven by emerging markets in upcoming years. As per IDC's presumption, the global PC shipments of PC will touch 528.5 million units in 2016 and emerging markets are going to contribute 61.7% of total PC shipments in 2016.
Some factors such as economic uncertainty, availability of high-end mobile device (smartphone and Tablets) at very affordable price and consumers saturation in matured markets are currently affecting to the global PC shipments. However, the growth of PC shipments is going to be boosted by an advent of Microsoft's Windows 8 OS, coming next month.  Undoubtedly, economic crisis in several markets has adversely impacted on the public spending and business confidence. Despite of this, we could expect that Windows 8 will help to reinvigorate the PC markets and definitely, it will entice a huge consumers for PC purchasing.