In June, India added 4.62 million new telecom subscribers and it was expected that the country could achieve 1 billion milestones soon. But, mobile subscriber base declined in July of this year, despite, active wireless subscribers reached to peak (698.06 million), a 76.42% of the total subscriber base for the month. In July, the number of telephone subscribers (wireless and wireline) decreased to 944.81 million from 965.52 million in June 2012.
Telecom subscription growth rate declined by 2.14% in July of this year. On the other side, market share of urban subscribers mounted down to 63.83% in July from 64.40% in June, while rural subscribers' market share plunged to 36.17% in the month of July. Likewise, teledensity of the country also plunged to 77.79 in July 2012 from 79.58 in June of this year.
Delhi succeeded to maintain its supremacy in terms of teledensity (233.72), followed by Tamil Nadu and Himachal with 117.06 and 107.50 teledensity respectively. On the contrast, Bihar recorded lowest teledensity of 47.45, while Assam had 49.16 teledensity in July 2012.
It's the first time in India when total wireless subscriber base declined. In July 2012, wireless subscriber base declined to 913.49 million  from 934.09 million in June 2012. As I have already described that the decline in mobile subscriptions occurred in July due to large scale disconnections by some service providers. The market share of urban wireless subscribers decline from 63.37% in June 2012 to 63.98% in July of this year, while share of rural wireless subscribers surged by 0.61% during the same period.
In urban areas, the wireless subscription slipped to 578.90 million in July 2012 from 597.59 million at the end of June 2012, while wireless subscription in rural areas dropped to 157.11 million in July of this year.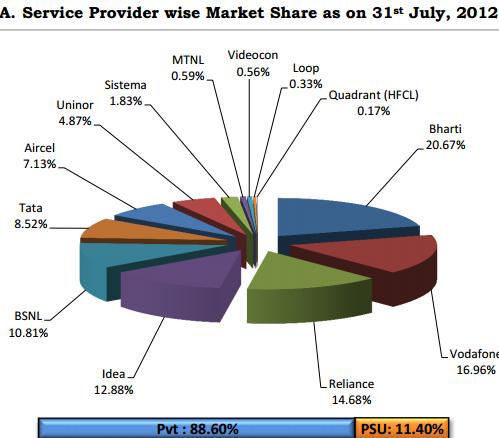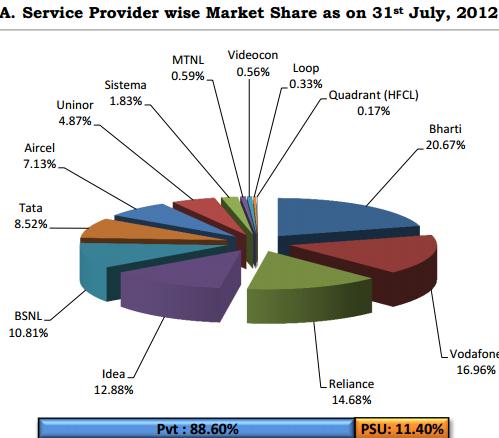 Once again, private service providers sustained their stronghold in terms of subscriber base in July 2012 with 88.60% market share, whereas PSU (BSNL and MTNL combined) managed just 11.40% market share.
In India, there were 698.06 million active subscribers (out of the total 913.49 million wireless subscribers) in July of this year. In circle- wise, J&K recorded highest (83.72%) visitor location register (VLR) subscribers in July, followed by Maharashtra with 82.31% and Madhya Pradesh with 81.78% VLR subscribers. In terms of VLR subscribers, Idea led with 92.80% VLR subcribers in July 2012, followed by Bharti Airtel with 90.46% subscribers.
Anyway, for Indian telecom industry, July month could not be considered as lucrative in terms of subscribers base. Indeed, the subscriber base of some operators including  Tata Teleservices, Uninor, Videocon and Reliance declined during the month of July this year. For further details go through with the link:
Source: TRAI