Coca-Cola has become the first retail brand to cross over 50 million Facebook fans milestone. Today, Coca-Cola has joined the elite-list of Facebook brands that have rare achievement of that many fans' number. However, Coca-Cola is not the first over Facebook that surpassed such magical number; Celebrities like Rihanna and Lady Gaga already have more than 50 million fans and web properties like YouTube and Facebook too achieved this long back but Coca-Cola is the first among retail sector.
Coca-Cola closest competitors in its own space, like Starbucks and Disney, have fever than 40 million fans only. To celebrate the achievement, Coca-Cola has launched a new application on its Facebook page to thank all fans. The application encourages fans to submit their ideas for invention and causes. Company will announce the winner sometime next year and will help him to nurture his idea and bring to reality.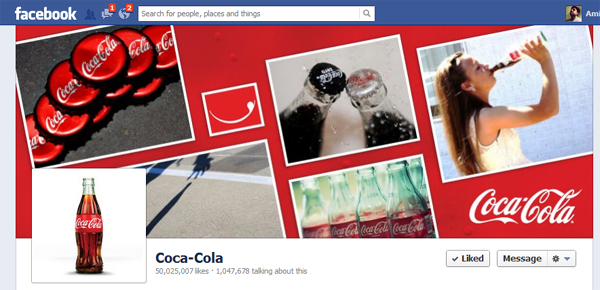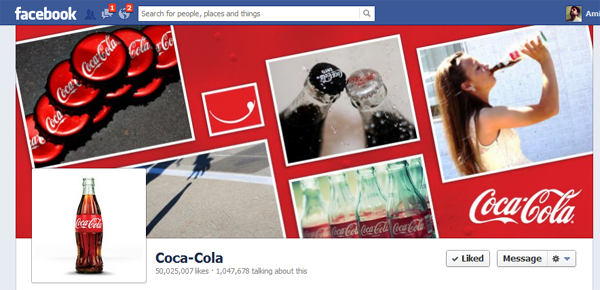 Company has also released a press note on the event.
Throughout its history Coca-Cola has always had a role in bringing simple moments of happiness to people around the world every day," said Joe Tripodi, chief marketing and commercial leadership officer, The Coca-Cola Company. "Today we have an engaged global community more than 50 million strong connected through Facebook. This provides an opportunity to engage our most supportive and enthusiastic fans in a quest to find ways to make the world a happier place."
Facebook is currently having little over than 955 million users across the globe and Coca-Cola has managed to convince 5% of users towards brand loyalty. The growth of Coca-Cola has been splendid for last few months. In fact new new features, rolled out for Pages, have helped brands to improve their communication style, reach and standards resulting in more number of fans.
Besides 'Promote' button for Pages, Facebook has added target filtration for pages. This helps page admins to serve updates to their fans more elegantly by targeting upon Gender, Interest, Location, age Group etc.