In April of this year, Mobile number portability (MNP) requests reached to 45.89 million and Gujarat was leading in the MNP Zone-I (Northern & Western) with 4.23 million requests, while Karnataka was at the top in MNP Zone-II (Southern & Eastern) with 5.11 million requests. As per data reported by TRAI, about 54.33 million subscribers rendered MNP requests to different service providers till the end of June 2012.
In June, Rajasthan surpassed Gujarat in terms of MNP requests and grabbed the first position in Zone-I with 5.06 million MNP requests, while Gujarat succeeded to register 4.94 million requests, whereas in MNP Zone-II (Southern & Eastern), Karnataka registered 6.43 million MNP requests, followed by Andhra Pradesh Service Area with 5.20 million requests.
Yesterday, we showed off how wireline subscribers' base is declining month-over-month in India. At present, users are more willing to adopt wireless mode of communications. Wireline subscribers' base declined to 31.43 million in June 2012 from 31.53 million in May 2012—more than 1 lakh subscribers escaped from the wireline service during a month period.
In the wireline segment, PSUs–BSNL and MTNL– unilaterally dominated over private operators in terms of market share in June 2012. Overall teledensity in India increased to 79.58% in June, but wireline teledensity of the country marginally declined from 2.60% in May 2012 to 2.59% in June of this year.
Considering to the market share of wireline service providers in India, BSNL dominated with 69.08% market share in June, followed by Bharti Airtel with 10.41% and MTNL with 10.99%.
Broadband (≥ 256 Kbps download)
In India, broadband subscribers are uniformly increasing and it reached to 14.50 million till the end of June of this year, up from 14.31 million in May 2012—a monthly growth of 1.36%.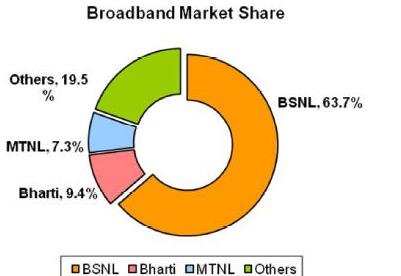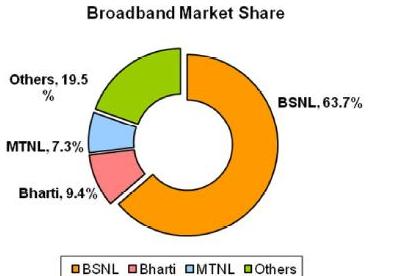 In June 2012, India registered 17.70% year-over-year growth in the broadband subscribers. As of June 30 of this year, there are are 155 internet service providers (ISPs) –which are providing broadband services across the country. It's pretty clear from the above chart, BSNL predominated with 63.7% market share in the broadband sector in June 2012, however, it's market share declined by almost 1% compare to the previous month. Till the end of June of this year, BSNL had 9.24 million broadband subscribers, followed by Bharti Airtel with 1.37 million, MTNL with 1.06 million, You Broadband with 0.63 million and Hathway with 0.36 million subscribers.
Despite of political maneuver related to 2G scam, it's quite obvious from the above report that mobile subscribers' base are continuously increasing month-over-month. However, profit margin of the service providers such as Bharti Airtel, Reliance and other are continuously falling.