India is on the way to achieve 1 billion telecom subscribers base. If the country's telecom subscribers base are growing in the same fashion as it added in June 2012, then the day isn't so far when India will surpass the 1 billion milestones figure. According to TRAI report, in June 2012, India added 4.62 million new telecom subscribers including both wireless and wireline, taking its subscribers base to 965.52 million. Till the end of June, there were 934 million wireless and 31.43 million wireline subscribers across the country.
However, the wireline subscribers declined during June of this year by 0.10 million , while 4.73 million new wireless users were added to total subscribers during the same period by telecom vendors. In June, wireless subscribers incredibly mounted up by 4.12% in rural sector compare to 0.60% growth of urban sector. Apparently, urban sector accounted for 63.98% of total subscribers base in June of this year, while rural sector had just 36.02% participation.
It's clear from the above chart that total wireless subscribers' base grew up to 934.09 million in June 2012 from 929.37 million of the previous month. In June, 'wireless subscribers' grew up by 0.51% in India, on the contrary, 'wireline subscribers' declined by 0.33%. In June, wireless subscribers' figure declined in both urban and rural areas, showed off 0.33% monthly decline.
Despite of decline in wireline subscribers, India registered teledensity of 79.58% in June of this year, up from 79.28% in May. Delhi recorded highest teledensity of 238.60%, followed by Tamil Nadu (119.05%), Himachal (112.70%) and Punjab (109.71%).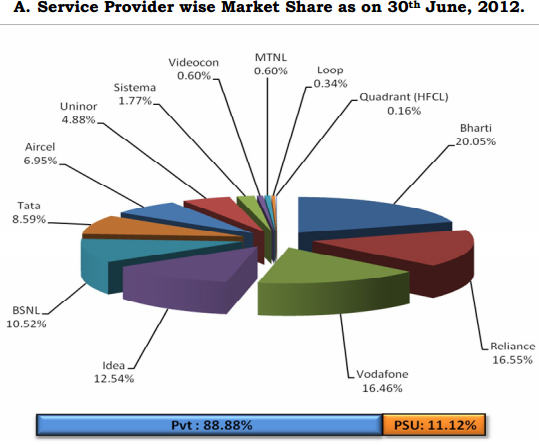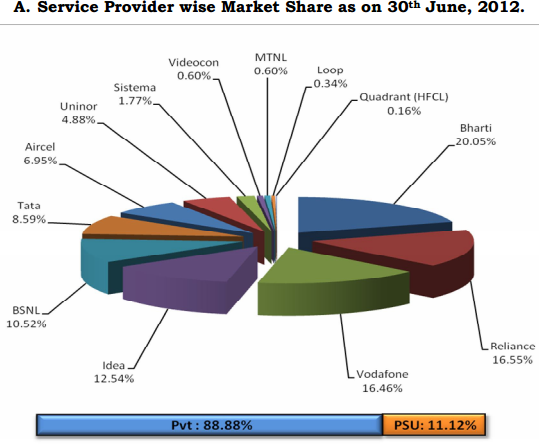 In term of market share, Bharti Airtel was leading in June with 20.05%, followed by Reliance with 16.55%, Vodafone with 16.46% and Idea Cellular with 12.54%. In June, private operators unilaterally dominated with 88.88% market over PSUs–BSNL and MTNL–, which had just 11.12% market share till end of June.
If we consider service providers' share in net addition during June 2012, then we find Tata suffered most in this month, followed by Videocon and Loop. On the contrary, Bharti Airtel were Vodafone were at the first and second notch respectively in terms of net share addition in June 2012.
In terms of VLR subscribers, J& K had highest proportion of VLR subscribers (84.62%) in June, followed by Maharashtra (80.62%) and Assam (80.37%).
Anyway, we can easily find out that June was one of the lucrative months for telecom sector in India. The demand of mobile handsets is continuously increasing and that's why, wireless subscribers base is beefing up month-over-month.