Undoubtedly, iPhone 5 is right around the corner and definitely, most of you want to get rid off from the old one (iPhone 4S). And I think, you won't like to have 'a cash burning hole' in your pocket. Now, you need not to be worried for the money because Apple is going to help you to offset the cost of the iPhone 5. Yes, it's true, the company is offering up to $345 for your iPhone 4S and you will have opportunity to raise some cash for your new iPhone in exchange of iPhone 4S. You would get the maximal dollars depending upon conditions and specifications of the device.
For getting the offer, you will have to select Apple's Reuse and Recycle Program on Apple's online wizard, where you will have to select the model, color and condition of your iPhone 4S. After filling out a simple form, you will get a quote for your handset that will give you an idea of how much your device is worth. If you have a 64 GB device in pristine condition (having no cracks or no water damages and scratches), then you will have the chance to get up to $345.
On the contrary, if the device that you want to sell has less storage capacity and also that is not in good condition, then of course, we will be rewarded less. If you are once agree with the Apple's price (that it gives you) and also, you are able to send the power cable along with the device, then Apple will send you a bag. You will have to pop your iPhone into the bag and need to send it back to Apple's partner–PowerON.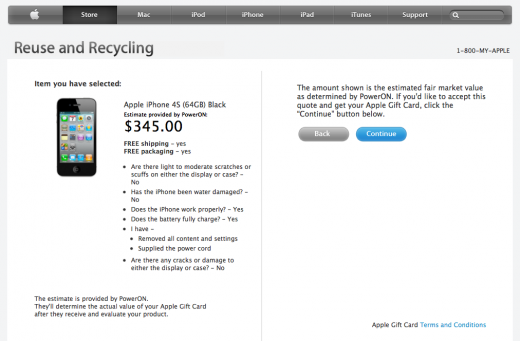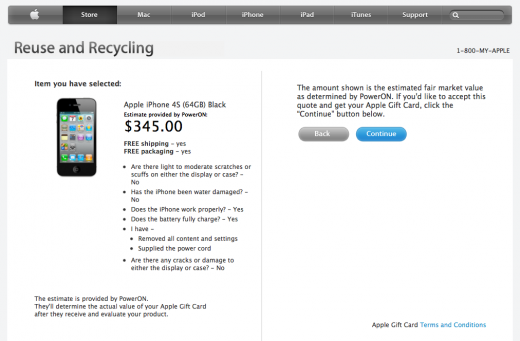 Once if you fill up all requirements on Apple's online wizard, then all information will be verified by the company after product's arrival. After investigation, if it's found that the details (you provided) are accurate, then Apple will send you a gift certificate, which can be redeemed against any Apple's new purchase on its online store. One thing is more important, the money that you will get from Apple is valid for the purchase through Apple Store only. If you will get $345, then it means that you won't need to search for any more money to get your hands on the new iPhone, or you will only have to search for just half of the money to own the device unlocked.
Actually, the service provider is going to play a vital role to determine the device's value, when it receives the device. In the case, if you lie on the form, then you will not receive the quoted value for your iPhone 4S.
I think, Apple is trying to create a room for its upcoming iPhone 5 by taking off iPhone 4S from consumers' hand. Definitely, the company would entice those users having iPhone 4S and eager to buy the iPhone 5, but the financial conditions are not supporting them to own the device. For such users, the offer could be a financial assistance. Last year, Apple was also offering $200 for iPhone 4 prior to the launch of iPhone 4S. I think, it's a good strategy of the company to propel the shipments of next products.