Really, it's the matter of consideration that what would be the cost of Apple's next Tablet? At present, every vendor is focusing to manufacture low-priced Tablets so that users could easily afford. At present, sequences of Tablets are available in the market, costing less than $200, despite of this, Apple continues to manage higher profit margin on its iPad. But the breakdown (done by Tech Thoughts) of build-of-materials (BOM) cost of the upcoming iPad Mini has astonished me a lot. The breakdown has revealed the BOM of the device would cost just $181.17. If Apple is selling the device at the gross margin of 37%, then it will cost just $299—still Apple would make $100 profit on each iPad Mini.  Let's see how much does it cost to make an iPad Mini: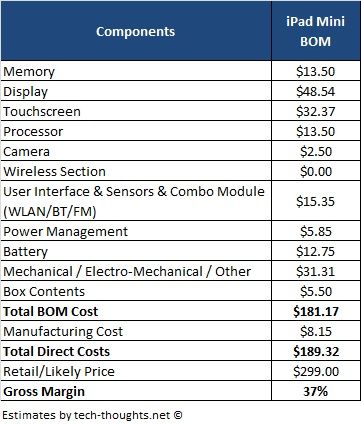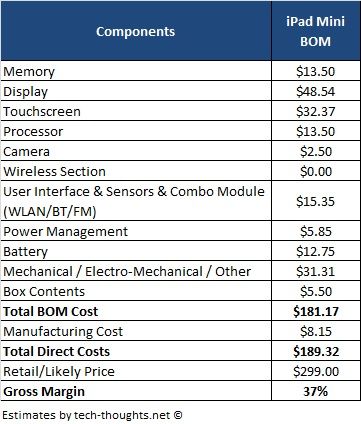 The cost of memory of Apple's upcoming Tablet is expected to be same as Google Nexus 7 Tablet. But, the  cost of the components of iPad Mini such as Camera and battery are expected to be higher. However, the cost of some of the device components are expected to be same as iPad 2.
It's expected that iPad Mini will more likely to have the same processor that is in the iPad 2 and the iPhone 4S. The cost of display and touch screen of the iPad Mini is expected to be quite a bit more expensive than iPad 2 and Nexus 7 Tablet.  It's pretty clear that the cost of  display primarily depends on two factors; first, the size of the device and second, pixel density of the device. It's well-known that the iPad mini has smaller display screen than iPad 2—the pixels density of  iPad Mini is almost 25% higher than iPad 2.
However, those are just speculations. For some instances, if I consider they are correct, despite, Apple won't sell the device without making hefty profit from it. I think, Apple won't sell the device below 30% of gross margin because it would be distasteful for its shareholders.
I think, Apple would sell the device for $299, that is reasonable for the brand like iPad. Amazon and Google are selling their devices at $199 because they need to make credibility in the market, but iPad is the leading Tablet brand in the market. Do you think Apple could sell iPad Mini for  $299?