Facebook has introduced a new promotional tool for pages called "Promote" that allows page admins' to broadcast any story/update to millions of Facebook users in few hours. Though, the button is already there on pages for some time now, but Facebook has extended its capabilities recently for optimum performance and reach.
With an extended feature, now Facebook page admins' can promote the story of the page by reaching out friends of page fans. Previously , page admins' who clicked on 'Promote' button used to see only an option of reaching page fans, by paying $5 or $10 attached to it. However, the new feature facilitates the task of reaching out the friends of the Page fans segregated in numbers tagged with certain cost.
Also, the new 'Promote' button feature provides flexibility to Page Owners to select the number of users, they want story to reach. Admins can choose to pay anything from $5 – $200 depends upon the number of Facebook users they want to reach.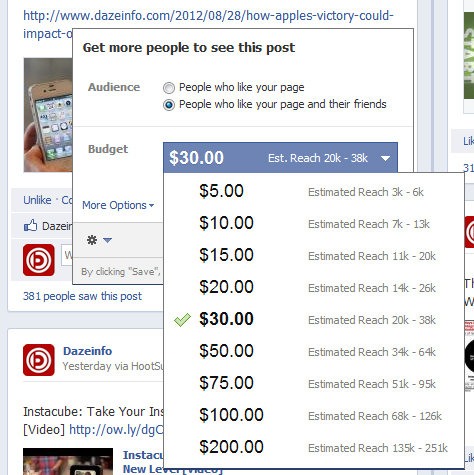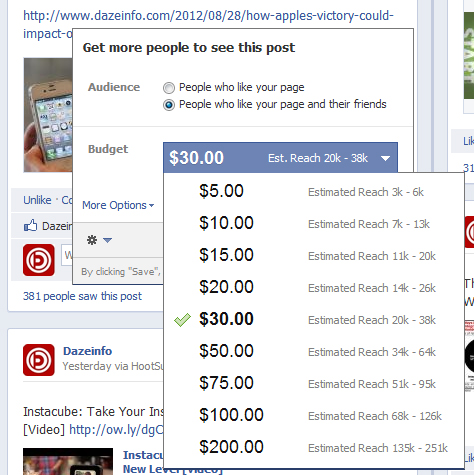 Undoubtedly, the new feature is very useful for Facebook marketers as they can flex their muscles based upon story to story and also have wide range of reach. The new feature also breaks the barrier of Page Fans if Admin is ready to omit certain cost for each story. After the promotion, selected number of Facebook users will see the story on their News/Feed section just like any other story or update from friends – but with a sponsored link.
Facebook has introduced this feature in late April this year. However, the late roll out has kept Page Admins unknown from the advantages. In fact, there are still many Page Admins who has been awarded with the basic feature only – promotion till Page fans – and many have an option of only $5 and $10. Interestingly, the price of per thousand impression (CPM) is different from page to page but Facebook has not spilled beans on the algorithm behind such calculation yet. The current avg price of CPM is quite competitive and has been designed keeping Google AdWords CPM rate apparently
The full capacity of 'Promote" feature will definitely help new brands to accelerate their reach and pages, which are still struggling to reach the wide audience, can make best use of this too by reaching out 100,000 – 1 million in no time.