Indiscriminately, tech-savvies were waiting for the Samsung's Galaxy Note Event, held on August 15 of this year in New York. Finally, rumors were divulged (about the next flagship products) by the South Korean Giant at the event. At Galaxy Note event in New York, the company just wrapped off its upcoming Galaxy Note 10.1 Tablet, however, the slate was unveiled in late February this year during MWC event.
Features Of Galaxy Note 10.1 Tab 
Previously, I have already described about the specifications of the device, but now, when the device has finally been reached to the market, then why we should not recapitulate specifications of the device once more.  The Tablet has 1.4GHz quad core processor, 2GB of RAM, Android 4.0 Ice Cream Sandwich, 10.1-inch WXGA LCD display, S Pen stylus system, a 5 MP rear camera and a 1.9 MP front facing camera (for video chat). The device is currently available in the U.S. at the starting price of $499 for the 16 GB model, while 32 GB version is available for $549.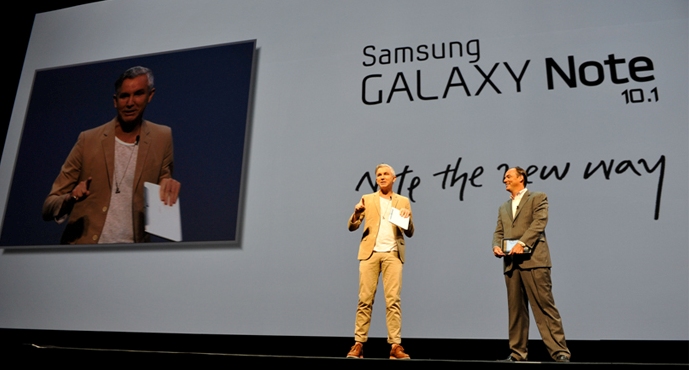 Samsung Shipped 7 Million Units Of Galaxy Note 
In addition to this, the company also unveiled the shipments of Samsung Galaxy Note  Phablet, which surpassed 10 million figure. In May of this year, the company announced to ship over 7 million units of Galaxy Note. As we already know that Galaxy Note features a dual-core 1.4 GHz Exynos processor, an 8-MP rear camera, 32 GB of internal storage and a massive 5.2-inch Super AMOLED display.
Besides, Samsung promulgated to update its Galaxy SIII smartphone with Android's latest Jelly Bean version by the end of this month. Anyway, Samsung Galaxy SIII smartphone will be the first device which will have Android latest Jelly Bean after Google's Nexus devices. However, it has been expected that there will have no any changes related to the visual interface in Samsung Galaxy SIII, but we could see some additional features updates in the device including enhanced notification and Google Now.
How Galaxy Note 10.1 Tab Is Better Than iPad?
It's true that Samsung Galaxy Note (hybridized Smartphone/Tablet) has proven itself around the world. And this time, Samsung is trying to provide the smartphone like features such as S Pen and more on the Tablet. However, I have already discussed why we should own Galaxy Note 10.1 Tab. The device has been designed for those who want to do some creativity like drawing, sketching, note making and more on their Tablet and also want to perform multi-task simultaneously. Moreover, the Galaxy Note 10.1 Tablet has been designed around two key features which the iPad lacks; first, a Stylus and several apps that allow users to do some creativity and second, it provides an ability to view two apps at once in a split-screen view.
Challenges For Samsung Galaxy Note 10.1 Tab
The Tablet is available at the starting price of $499, but I think, the price is reasonable. If you consider about its features like S-Pen, PS Touch, Exynos 4 Processor and 16 GB of storage, you might find out that the price is being charged by the company is quite ethical. Undoubtedly, the Galaxy Note 10.1 Tab is being felt like a niche device. Despite of these, I think, the price of any devices plays a crucial role for their shipments. Likewise, if we consider the price of Galaxy Note 10.1 Tab, then it's not going to entice price-sensitive users around the world. In addition to these, there is also a discussion about the battery life of the device, which is quite poor compare to the Apple's iPad. However, I have not yet got any evidences, but if it is so, then the device will definitely have to pay a lot for the vulnerability.