It's well-known that majority of users in the U.S. are owing Smartphone, but it's important to know how they are using their device for online shopping. According to a recent survey from Nielsen, nearly half (47%) of smartphone users in the country were using shopping apps in June of this year. Interestingly, 45 million Smartphone owners (among overall) accessed their shopping apps 17 times on average during June of this year.
Director of Telecom Insights at Nielsen–Don Kellogg–said, "Retailers are finding that consumers are willing to use smartphone apps to enhance their shopping experience, and this data shows usage of shopping apps is growing. As more Americans use their smartphones while shopping and making purchases directly through apps, retailers should consider personalizing their targeted offerings around the needs of individual consumers."
However, the major brands did not need to saddle more afford to entice a considerable number of unique audience during June of this year; they are already well-known for online buying. Two online retail giants–eBay and Amazon–were at the first and second positions respectively during June of this year with over 13 million and 12 million unique audiences.
Besides these, traditional retailers like Target and Walgreens also succeeded to generate a significant mobile traffic during June of this year. Target and Walgreens attracted more than 2.2 million and 2.8 million unique audiences (those were looking to find the best deals in their local stores) respectively during the same period.
On the other hand, daily deals sites including 'Groupon' and 'Livingsocial' also succeeded to grab more than 11 million and 4.3 million Americans respectively through their mobile apps during June of this year. Other apps like Shopkick, Out of Milk Shopping List and RedLaser were also among the top 10 shopping apps in June of this year.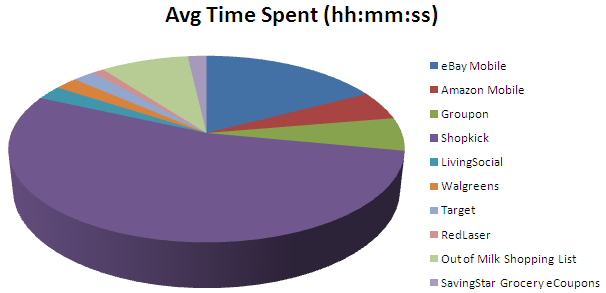 If we consider about the average time spent on different shopping apps by the U.S. folks during June of this year, then we find that eBay Mobile and Shopkick were the top platforms where users spent most of their time. Users spent least time on RedLaser app, followed by SavingStar Grocery eCoupons and Target.