Despite of technological advancements, mobile handset users are still stuck with severe issues related to their cellphones. The problems are basically related to the dropped calls, 'unwanted sales and marketing calls', 'spam and unwanted texts' and 'slow download speed'. A U.S. based research firm 'Pew Internet' conducted a survey in April of this year over folks (aged 18+) in the country. Till the end of the survey, 88% of American adults had cellphone.
Users Often Experience Problems
Dropped calls: 26% respondents said that they never experienced the problems related to calls dropped, while 41% faced less often. Just 6% users  accepted that they faced the problems several times in a day.
Unwanted Sales and Marketing calls: 33% told that they never faced such calls, while 44% less often experienced.
Spam, Unwanted texts:  now-a-days, spam and unwanted texts have become a major issue. But, 31% of the cell phone owners said they never got any such types of texts, while 44% accepted that they often.
Slow Download Speed: 77% respondents during the survey period said that they had faced the problem  related to slow download speed that inhibit them to download the contents promptly.  See the table (below) for more details:
However, the firm has clarified its intention regarding the illegal marketing to cell phones; its intention was only to find out out unwanted intrusions. The firm has also reported that despite of legal restrictions unwanted intrusions are still affluent.
Mobile Phone Problems (Ethnicity-Wise)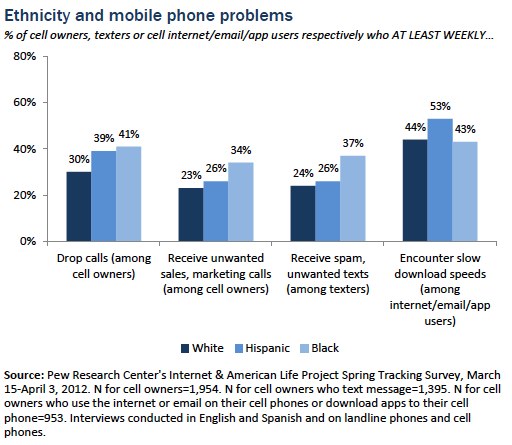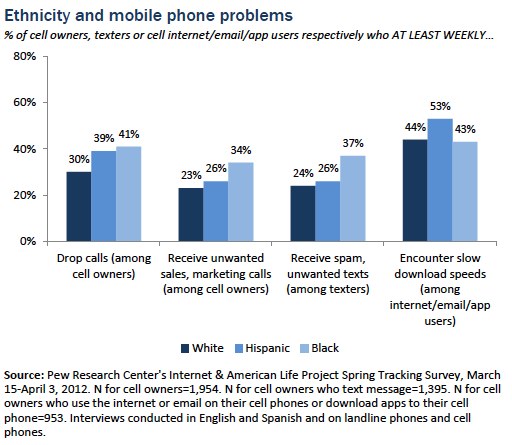 The firm has also identified the problems on the basis of ethnicity. The problem of 'drop calls', 'receive unwanted sales and marketing calls' and 'receive spam and unwanted texts' were often among Hispanic and Black across the country, but issue related to slow download speed was almost similar to all (Black, Hispanic and White). See the above table for detail information.
Challenges Confront By Smartphone Owners
The issues related to dropped calls, unwanted 'sales and marketing' calls, 'spam and unwanted texts' and slow download speeds are more often on Smartphone compare to feature phone. 49% and 35% of Smartphone owners reported that they were facing problems related to dropped calls and slow download speeds respectively at least weekly, while 28% and 31% of feature Phone users faced the same problems respectively.
Indeed, it's interesting to know, despite of telemarketing rules and legal restriction, such types of issues are often found even in matured markets like U.S.. The survey is showing that the problem is somewhat more on the smartphone compare to feature phones.