At present, there's a serious discussion about Apple's Mac OS X 'Mountain Lion' and Microsoft's 'Windows 8'  OS. Apple has already released its major upgrade to its desktop and now it's the time for Microsoft to release Windows 8 . However, Microsoft has already confirmed to launch the upgrade on October 26 of this year. If you will consider about the strategy of both tech giants with their desktop OS, then obviously, you will find that both are trying to provide seamless mobile experiences to desktop users. Apple has borrowed its many features from mobile devices to desktops platform. On the other hand, Microsoft has completely revamped its desktop OS; integrating both the platforms (Tablet as well as PC).
On subtle investigations, one can easily find out that both have the same goal to improvised their sharing, personal apps, photos and cloud services on the desktops. On considering about sharing, Mountain Lion is letting you to share things such as websites, videos and more from an individual apps. Apple has properly integrated its mail box with its Safari browser to work outstandingly. Likewise, Microsoft has also endeavored to provide seamless sharing ability to their desktop users; they can immediately share call up of list just by a single click or touch screen. Now, majority of apps are going to integrate social networking such Facebook and Twitter.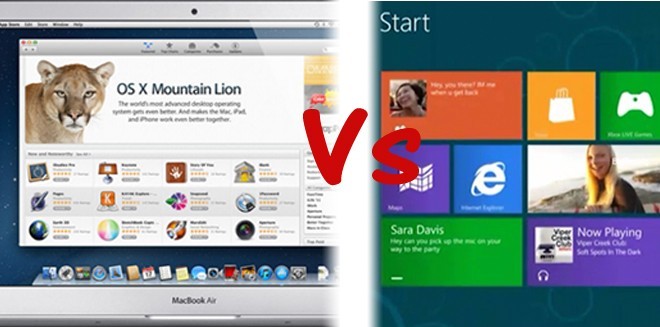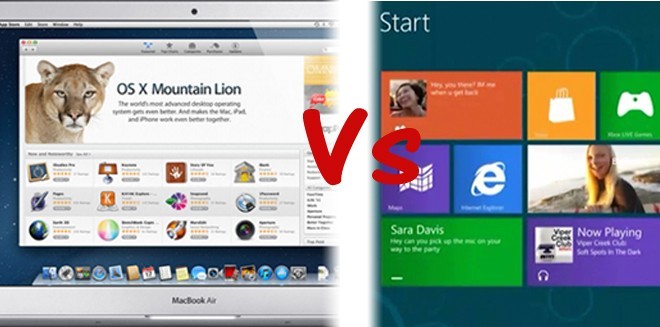 Apple has replaced its 'Apple Message' with 'iChat' and has tried to integrate users message with iPhone and iPad. It has also integrated new reminder app that work similarly with mobile platform. On the other side, Microsoft has also integrated similar type of message app with its OS, where users can also interact with Facebook.
Now, users can see a lot on their desktops (like Photo organizer and editor). Microsoft has placed photo front and center in its Windows 8 with 'Simply Photo' app. The app has been tied up with Facebook, Flickr and one can store the photo in the cloud through SkyDrive. While Apple has launched iPhoto with every Macs, using which users can organize and edit the images.
Both the tech giants are caring about even precised things like photo sharing, editing and organizing. In terms of photo experiences, Apple's app is more effective than Microsoft's photo app. Microsoft's photo apps is just a simple hub for the accessing and sharing of the pictures, but Apple's iPhoto is more centralized command center for users's photo collection.
On the horizon of cloud services, both tech giants are different to each other. I consider, Microsoft's Skype has viable file structure and also has a significant numbers of subscribers, while iCloud provides more syncing services, ensuring certain types of contents for users.
The scenario is changing, users are demanding a mobile like experiences on the desktop and both the tech giants are trying to carve a gateway to a person's digital life. Undoubtedly, Microsoft and Apple are attempting to create a seamless mobile friendly ecosystem on desktop.