Recently Twitter touched the 500 million user mark, including over 140 million users in the U.S alone and the growth rate is further surging up gradually. But where does Twitter stand when it is represented in terms of Internet?
Pew, an American market research firm, released a report on Twitter usage over internet in the U.S. 15% of internet users across the country are on Twitter as on February 2012, compared to 12% users in August 2011. The number of users nearly doubled from 8% in November 2010 to 15% in February this year.
According to the survey conducted by Pew, 8% of internet users were online on Twitter on typical days in the month of February this year. The number of users accessing Twitter in a typical day is increasing at a very high rate. The number of users (using Twitter online), quadrupled from 2% in November 2010 to 8% in February 2012.
But this report is limited to the survey conducted in America. What about the Twitter usage over internet from other countries? Also what about the number of twitter users?
There were over 100 million active users as on September 2011 and this number further surged-up drastically within half a year.  As on March, Twitter boasted in its blog post of 140 million active users.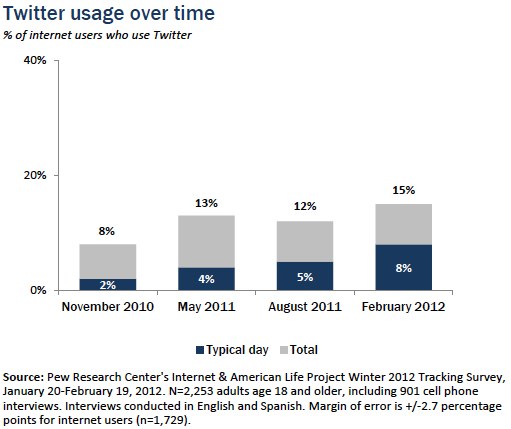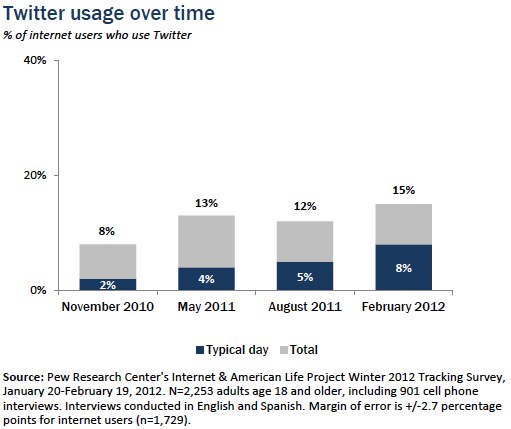 Women Twitter users are a step ahead from the men. As per Pew, one-quarter of internet users of about 26% (ages 18-29) use Twitter, nearly double the rate for those ages 30-49. Nearly one-third of internet users aged 18-24 are accessing Twitter in the U.S., up 18% in May 2011 and 16% in late 2010.
And as the smartphone usages is widely adopted, 1 in 5 smartphone users are on Twitter, with 13% using Titter in a typical day. And pew describes that people using the basic phones are half as likely to access Twitter of only 9%.  The age group between 18-24 are the fastest growing users of Twitter over the last year. Pew found out that regardless of the platform or device used, overall 9% of mobile owners used Twitter. And when it comes to smartphones, 16% of smartphone users access Twitter whereas 10% use Twitter on a typical day. 1 out of 5 users aged between 18-24 use Twitter via their phones, with 15% accessing Twitter on a typical day.
But according to Comscoredatamine, Twitter showed off fastest year-over-year growth on both platforms (mobile and desktops i.e. 101% and 66% respectively) in Q1 ended March of this year compare to other social networks.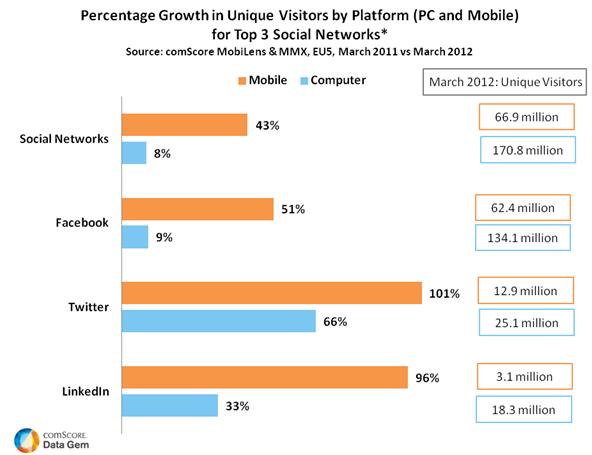 The youngsters aged 18-24 are more viable for the growth of Twitter in the coming years especially with the growing adoption of the smartphones.