Monetization of mobile platform is still a challenge for Facebook. At present, its investors are unsatisfied with company's Q2 earnings report for the fiscal 2012. However, the company has recorded 32% year-over-year revenue growth  in Q2 of this year to $1.18 billion and succeeded to manage earnings of $0.12 per share. Despite, its stock share value is continuously declining, drop by 3.82% from yesterday to $20.88 (today).
Facebook's Ads Campaign On Mobile Devices
At the end of February this year, Facebook started showing ads on mobile, but later five months,  users can still see only sponsored stories on their mobile device. But the important thing is here that the social ads receive 13 times more click on mobile device than desktop. In March of this year, just 83 million users solely accessed Facebook through mobile device, but in June 2012, the number grew to 102 million. Astoundingly, among 543 million Facebook's mobile MAUs (monthly active users), 18.7% accessed the social networking site solely through mobile device, not even visit the site through desktop.
Facebook  has invested $24 million to acquire Tagtile, Karma, Lightbox and Glancee. One thing is quite notable, number of Facebook user in the U.S. grew by just 10% this last year, considerably lower than 29% of the global growth this last year. Thanks to India and Brazil, where Facebook registered 84% and  146% year-over-year growth respectively.
It's true, majority of Facebook's users are still accessing the social networking site through desktops (where Facebook can shown up to seven ads page), but the problem is with the mobile platform, where it only shows off occasional sponsored stories. The number of daily active users on desktops was flat during Q2 of this year and it was declined in some worthwhile markets such as U.S. and Europe. In these markets, figure of daily active users (DAUs) on mobile continued to mount up during Q2 of this year.
Mobile And Desktop Users' Behavior On Facebook
The scenario is changing; now more and more users are accessing the social networking site through Smartphone.  Sponsored Stories is the first step of the company to generate money from mobile platform. A recent study by AdParlor has revealed that mobile users are 15 times more likely to click on an ad compare to desktop's users. In addition to this, Mobile users comment 22% more than desktop users and also mobile users "like" posts 63% more than the non-mobile users. See the graph (below):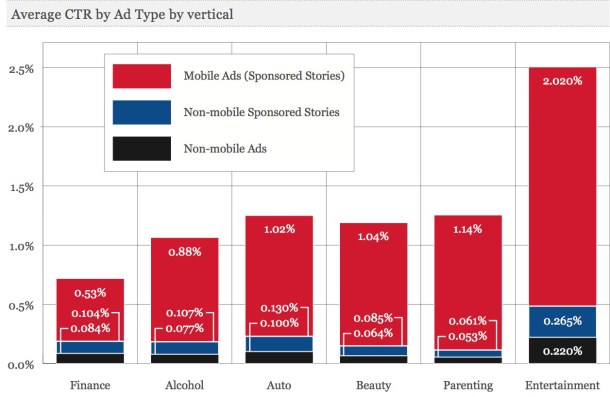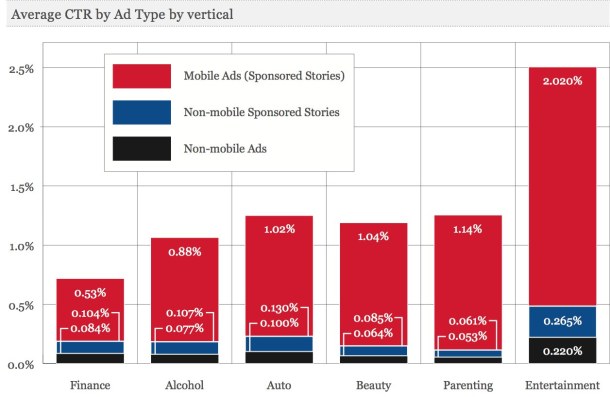 It seems from the above graph that how mobile users are more effective across several categories than non-mobile users. On pointing out to the action generated for every 1,000 by ad type, it has been identified that 200 'Post Like' come from mobile device compare to 122.9 of the non-mobile device. It's pretty clear from this study that people interact with mobile ads more than with Facebook's desktop ads.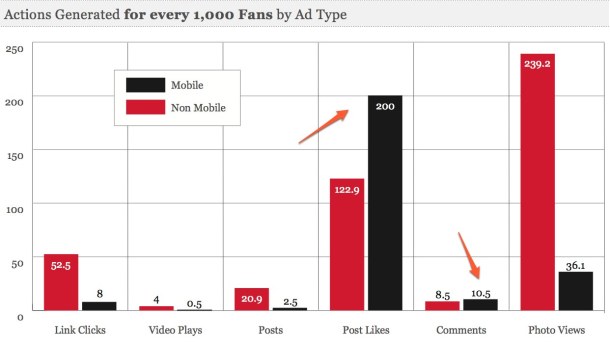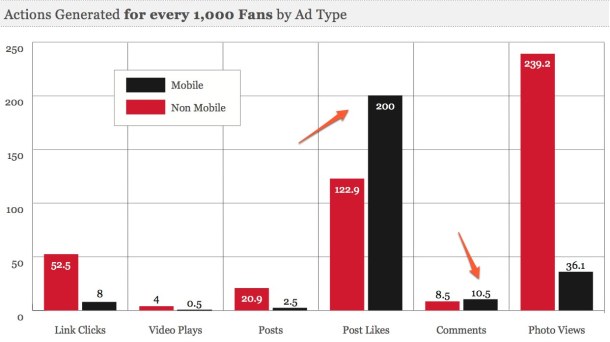 Despite of these, I've heard lots about the demerits of Facebook's sponsored stories on mobile apps.  Chief marketing officer at Velti–Krishna Subramanian–said that Facebook is allowing just one in 10 sponsored stories to run on mobile platforms. The social networking site is allowing the best-performing Sponsored Stories ads into mobile. However, a Facebook's spokesperson clarified that Velti's claim was incorrect.
How Much Revenue Could Facebook Generate From Sponsored Stories Per Year?  
Facebook believes 'Sponsored Stories' are cornerstones for company in order to monetize mobile platform. The strategy has been rolled out for almost six months. Users are more interested to view news feed and sponsored stories is being displayed here. By the end of June this year, sponsored stories were generating $ 1 million per day and half of it came from mobile platform. It means Facebook to generate $365 million per year from sponsored stories, a 30% of total revenue.
Facebook's stock value drops day-over-day and we can't blame to its poor guidance for the stock market because it has already refused to provide any assistance (guidance). It's clear from the Facebook's post Q2 earnings conference call that the operating expenses are going to increase in the rest half of the year. However, the company has also boded revenue growth in rest half of the year. But I think, it's not a good hearsay for its investors. We know, the profit is determined by revenue minus expenses and the company has estimated increase in operating expenses. It means that increase in revenue will be offset by operating expenses.
Facebook's Revenue From Ads
Mobile user growth is incommoding to Facebook's advertisement model; 84% of Facebook's revenue comes from advertisement. Facebook's monthly active users grew by 29% to 955 million compare to a year back and now it has 543 million monthly active users on mobile platform. It's quite clear that how ads are important  for Facebook. But the problem is with the mobile platform that banner ads do not work due to small screen size. Facebook wants to accommodate both the primary social-networking function and money-making advertising function together, but this time, it seems very tough for the social networking giant.
If we will think as per advertisers perspectives, users basically access their smartphone 'on the go' (while travelling) and that time, they prefer to use the device for communication, not for shopping. For online shopping, they prefer to be at the home, sitting consciously and has time to compare the prices from different sites or need to have free hand to pull out credit card. Facebook's revenue growth is lagging behind due to unwillingness of mobile users to spend money on advertisements compare to desktops users.
Challenges Ahead For Facebook
I'm little bit apprehensive how Facebook would successfully sell the ads on mobile? If we considering about the ads on web, Apple and Google have their own ads networks. Facebook's sponsored ads run within 'news feed' and really, the social networking site needs to work hard to improve its ads models. Indeed, it's the matter of concern, Facebook's 102 million mobile MAUs  are not likely to access the site on desktops and the number is expected to grow tremendously in the future.