After the Facebook IPO, many analysts have raised questions about Facebook's mobile revenue and recently Facebook is constantly endeavoring its way to stabilize its ad revenue via mobile as well.
According to the adparlor (Facebook ad campaign handler), 'Facebook ads' record higher CTR (click-through rate) via Android devices when compared to iOS and BlackBerry.
Click through rates (CTR):
Firstly, for those who don't know, CTR is a way of measuring the success of an online ad campaign. Facebook's mobile ad CTR is 11 times higher than non-mobile ads (desktop ads) and also CTR on mobile ad campaigns are 15x more than the non-mobile ad campaign. As per Hussein Fazal (adparlor CEO), click-through rate for the mobile ad is 1.32% on average.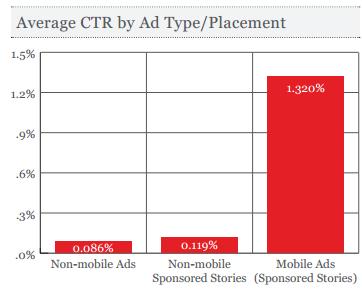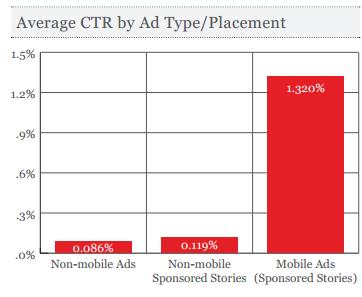 image credit: adparlor
Having said that, all that clicks by Facebook users on its ads, cannot be considered to be exact, as there are various other factors regarding the clicks on ads. For instance, users might accidentally click on ads on the mobile.
Clicks on ads are 30% cheaper in the mobile than the non-mobile clicks, which means it's an invitation for more advertisers towards the mobile world for their ads.
Android has higher CTR than iOS & BlackBerry:
As per Hussein, while an ad is created on Facebook, the advertisers have the choice of triggering ads on the devices that they think is beneficiary.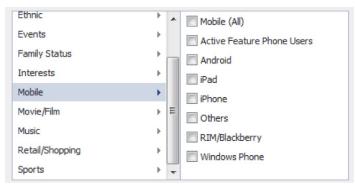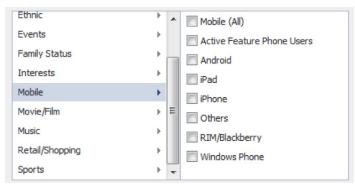 Android recorded a CTR of 1.23%, which is 62% higher than the iPhone and BlackBerry.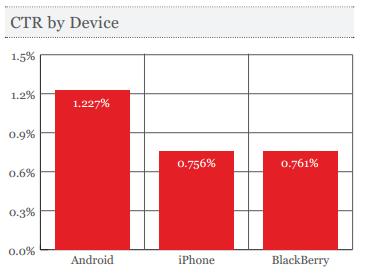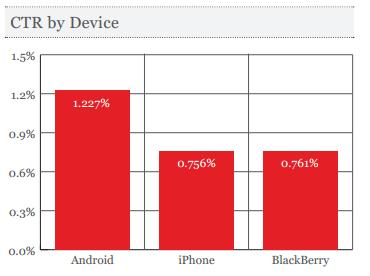 Even though the click-through rate is high as compared to the desktop, the real thing that needs to be considered is about how many of them are actually buying the products by clicking on ads via mobile. However, click-through rate actually helps Facebook to gain more and more opportunities by various advertising agencies. The more the click rates, the more likely the firm's chances of attracting ad companies to tie-up with them.
As more click-through rate was seen in Android devices, which is more than the combined CTR of ads in iPhone and BlackBerry, Facebook might most probably eye on Android users for expanding its mobile ad revenue. Moreover, as the number of smartphone users are increasing globally, especially Android phones and as the clicks are 30% cheaper on mobile for the advertisers, more and more advertisers may warm-up to extend their hands towards Facebook. Eventually this might prove to be a good news for Mark Zukerberg for the mobile ad revenue strategy, but up-to which extent, that is the question.