Social media has become a part of our lives and keeping yourself up to date about the latest happening in social media might come in handy. And what if there is a search engine, exclusively for Social search? It would be great if one can access the latest and relevant info from various sources, all together planted at a single place. And that's where Bottlenose comes in.
Bottlenose – a start-up, is a search engine for the social web, which is similar to that of Google engine for the web. Bottlenose learns the latest trends and find out what the crowd is interested in and presents you with the newest relevant and noise free social search results.
It is mentioned in the Bottlenose website:
"Search engines are not the solution. They index the past, not the present. They're great for finding Web pages, but no match for the real-time social Stream. It is more capable because of what we call "social assistance" – Bottlenose is your co-pilot in the stream. "
You just need to type in your query in the search bar, but to connect your social networks, you need to register where you will get personalized dashboard to update yourselves with the latest trends.  There are some predefined links to the topic of your interest below the search bar.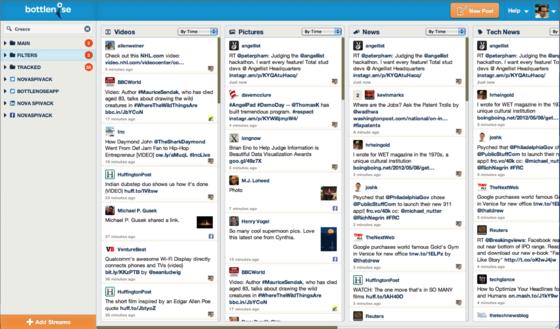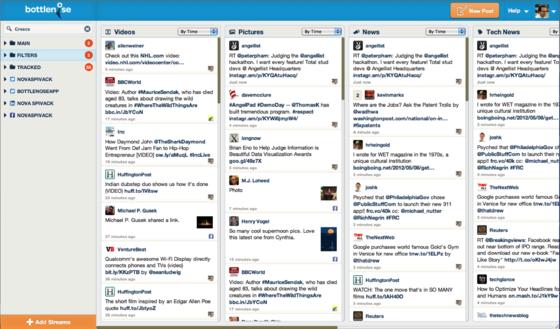 How bottlenose works:
As per Bottlenose, it creates a dynamic semantic interest graph related to every topic, link and person on the Stream using StreamOS (written using java script and HTML5). StreamOS connects  with Twitter, Facebook, G+, YouTube, LinkedIn, RSS feeds etc, which means you will get the latest trendy search results from many social networking sites.
It supports sorting and filtering, enabling you to choose contents from social network that you are interested in and eliminates unwanted noisy data. Advanced search options like AND, OR can be used while searching a query.
Bottlenose could be a welcoming platform for freelancers, business professionals and others "info hungry" people etc. More updates to the site can be expected in the near future.
Check out the video about Bottlenose
http://www.youtube.com/watch?v=PDYQAQgwxB8