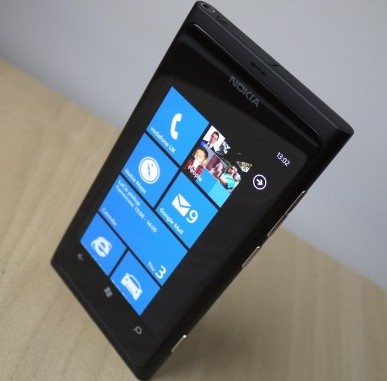 Recently, Nokia has released its Q2 earnings report of the fiscal 2012, revealing almost $1 billion operating loss for the quarter. Only pleasant thing for the quarter was the shipments of 4 million Windows Phone powered Lumia models. Anyway, the Finish handset manufacturer has reported third consecutive loss since Q4 of the last year. Despite of these, investors are seeking hopes in Nokia. Of course, it's so due to augmenting demand of Windows Phone powered Lumia device around the world.
But, the discussion is here, how the shipments of Nokia's Lumia models are better than the shipments of Apple's iPhone and Samsung's Android family? The reason is quite obvious, if we compare the shipments of the devices from these manufactures (Apple, Nokia and Samsung) in the first three quarters of their launch, then we'll find out Nokia's Lumia models' shipments were far ahead than iPhone and Samsung's Android-based Smartphones. Apple released its first iPhone in Q3 of the fiscal 2007, whereas Samsung launched its Android based Smartphone in 2009. A market research firm "Strategic Analytics" has revealed shipments of iPhone, Samsung Android family and Nokia Lumia in the first three quarters since their launch.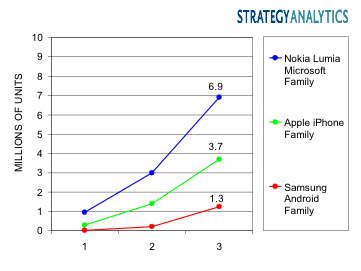 Nokia sold highest 6.9 million Windows Phone based Lumia models in just three quarters since its launch in Q4 of the last year, on the other hand, Apple could sell just 3.7 million iPhones in the first three quarters after its launch in 2007, while Samsung shipped just 1. 3 million Android powered Smartphones during the same period after their launch.
This time, Nokia's friendship with Microsoft seems trustworthy. But, the relationship has benefited Microsoft more compare to Nokia. At present, Microsoft has somehow succeeded to make its presence in developing countries which is been possible only after teaming up with Nokia.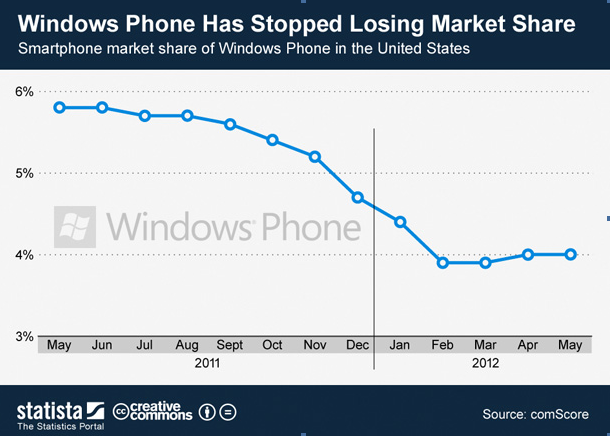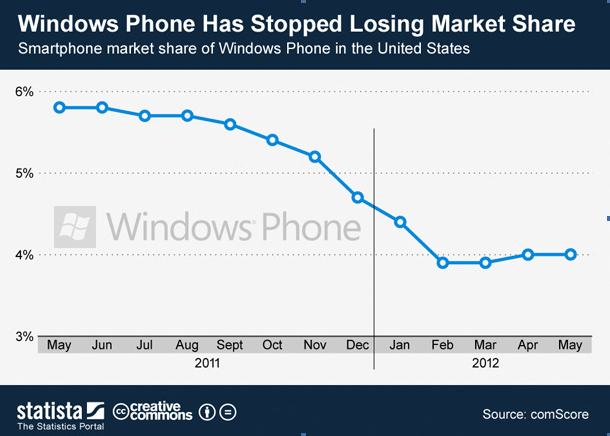 In the last three years, market share of Microsoft's Windows Phone in the U.S. has steadily been declining until February of this year. A graph has been provided above depicting how Windows Phone's market share declined from May 2011 to February 2012. Till the end of February, market share of Windows Phone reached to 3.9%, since then, it's continuously increasing, registered 4% market share in the U.S. in May of this year. Anyway, decline of Microsoft's market share has been stopped since February this year and expected to grow later this year.
According to a recent study, the market share of Windows Phone/Windows Mobile would reach to 19.2% by 2016. Microsoft could launch its Windows Phone 8 version before the end of fist quarter of next year. Undoubtedly, the release of Microsoft's upgrade version could boost the sales of Lumia model.