People in the Asia-Pacific region (India, China, Japan, Indonesia etc) are spending a lot of time over social networking websites and Brands over social media are witnessing higher response rate from specific countries like India and China. More over Asian users like the people in India and China are the most active users of internet.
India and China are on the top, with the highest number of active Internet users. Despite the scrubby internet connection in some parts of India, it stands second in Asia in terms of internet active usage. About 94% Smartphone users in India access internet on their mobile device.
According to emarketer, you can see that China and India are the two top countries who would buy a brand due to their presence over social media. Social site users belonging to the countries like China, India, Indonesia etc  are more likely to follow or buy a brand because of friend's "Likes" for a particular brand.
54% of Chinese people, followed by 44% in India are more likely to purchase a brand due to their presence over social networking site and influence by friends' connection. Indonesia is next in the list with a 39% of respondents. Australia (15%) and South Korea (14%) are nearly in a neck to neck competition pertaining to the percentage of respondents. Japan is last in this list with only 6% respondents.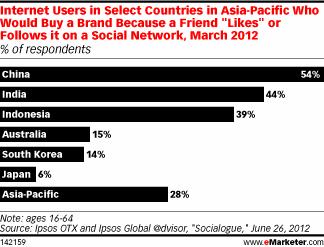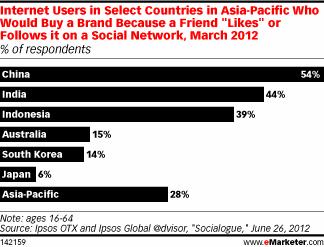 In India, users are more likely to purchase online via their Smartphone device. 68% Smartphone users had used their device for online purchase in the country. And most of these users are encouraged to purchase a brand via social networking sites like Facebook, Twitter etc. Facebook's pages are used by brands to reach to a wider audience in India.
Brands already have started to divert their focus on social networking sites to trigger their ads or promotions. Most probably Brands will continue to receive similar response rate in the future from Gigantic countries like India and China.