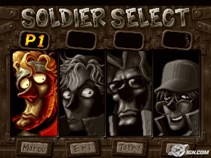 Since the release of Metal Slug 1, the madness for this game is increasing among the fans and it's getting better and better. Metal Slug 3 – the NeoGeo Masterpiece, can now be played on Android and iOS supporting devices.
Fans can now download Metal Slug 3 by "SNK Playmore" on iphone and Android devices. Remember how popular this game was earlier with its first version release and the extra bucks you spent for this game. It is one of the best action shooting game played. Regardless of any platform (operating system), Metal Slug 3 will cost you $6.99.
Though the game is two-dimensional, the imagination used in this game is fabulous from those phenomenal and crazy weapons to the extra terrestrial creatures supported by the insane troop of soldiers. Users can save a number of prisoners, who will gift you with deadly weaponry and other things.
Users might expect the same version of game ported to the mobile, which was earlier played on different devices or consoles. But the game is redesigned with many new updates. Other than the Arcade mode in the game, players now can now use the "Mission Mode", which will allow players to choose the desired stage or level in the game. A lot of new slug machines are available, like the Drill slugs, Slug Marines, Elephant slugs, Ostrich Slug etc.
Now with the availability of branching map, users can choose a different route to the end of the mission with each play. Thanks to the mission mode which will allow users to experiment on desired stages. The game can also be played with other players in Multi-player mode via Bluetooth.
Players can challenge for the best scores with other players, worldwide, by using the network function of the device. You can go air borne, water borne or land borne in tearing out the enemies in your path till the end. There are many highly dangerous or amusing villans waiting to show their wrath, at the end of each stage.
http://www.youtube.com/watch?v=S70CIQf9RjU
Indeed the game is going to do well, especially with the addition of Mission mode that will allow users to play their desired level. The game is getting better and better from its 1st version and yet there are next versions to be introduced in Android and iOS in the future. The price might seem a little expensive, but this extraordinary and crazy game is worth to be played.
Image credit – gamezone.com