The latest prediction for Twitter is that it might touch the billion mark in its ad revenue in 2014. According to the latest estimation by Bloomberg, Twitter would cross $1 billion by 2014 in its ad revenue. And if we look back into the past, huge companies like Facebook and Google had taken 6 and 5 years respectively to achieve the ad revenue of $1 billion, whereas Twitter might take 8 long years.
In the present scenario, Twitter is much more stable and it is assumed that, it will be more established in the upcoming few years. The last few weeks remained crucial for Twitter as there were  rumors  about Twitter's downfall. However, all the indigestion was resolved and now, Dick Costolo (CEO of Twitter) is running the Social Media business quite comfortably.
According to eMarketer's report, Twitter will leapfrog from last year sales revenue of $139.5 million, up $540 million in the year 2014. More than 140 million users on Twitter, sending over 300M tweets per day, might help the association to generate good revenue from its ads. Shares, Comments and Retweets on ads are the ultimate factors for Twitter to generate high revenue. Indeed, the attractive changes on Tweeter are attracting users.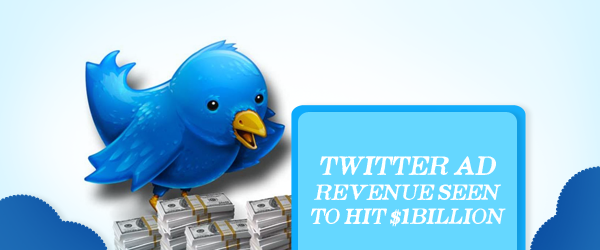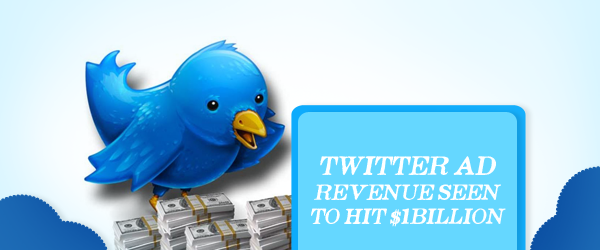 "The marketers who have used Twitter's advertising opportunities have been pleased," said Nate Elliott, an analyst of Forrester Research Inc. (FORR) in New York.

"Twitter's going to be able to push forward and continue to make more money from it.", he added.
Twitter is spreading its empire to other countries to capture more users. The California-based company is now available in many countries. Twitter has gained its popularity in Japan with 30 million active users and Japanese language is used as the second most used language on Twitter. It's a general thing to say that, increase in the number of users will eventually lead to more number of Sharing and Retweeting, which means more revenue. According to eMarketer, Twitter is going to incur revenue of $150 million instead of $139.5 million in this year, which was a prediction in late January of this year.
Facebook's decision to increase number of ads on home page could make discomfort for its active users. Even some of the users have not hesitated to install plugins like ad block to get rid of from ads. Undoubtedly, by including additional ads on the Facebook News Feed, the social networking website is going to generate more revenue, but it could lose a significant number of users. In this scenario, Twitter will be the ultimate option for the marketers who want to invest more on social networking ads.