One of the most widely used – third party Social gaming application provider, Zynga is pretending to take over the mobile social networking world. The firm's latest acquisition from past one year shows some exclusive facts and figures.
Zynga's present status:
Zynga is one of the top revenue providing company for Facebook. According to CNET news, the firm is  having more than 292 million monthly users who are actively indulging in Zynga gaming apps like CityVille, Zynga Poker, Draw Something, Hidden Chronicle, Farm Ville, Caste vile, Words With Friends, Empires & Allies, Scramble With Friends, Café World, The Pioneer Trail, Indiana Jones TM, Adventure World and the most famous of all Mafia Wars. In addition to this, Zynga is the third-party gaming application provider for Facebook which counts a healthy revenue from Zynga inc.  65 million users are daily players  and 22 million are mobile users. Currently in Zynga, 64,000 words related games are played; 43,000 pictures are drawn in the application; 38,000 play poker games; 250,000 gifts are opened by friends; 140,000 game turns; and more than 5,000 chat online. In addition to these, there are over 1 million active players per second and  2.8 billion social interactions take place per day, with 1.8 trillion minutes of play over the last three years.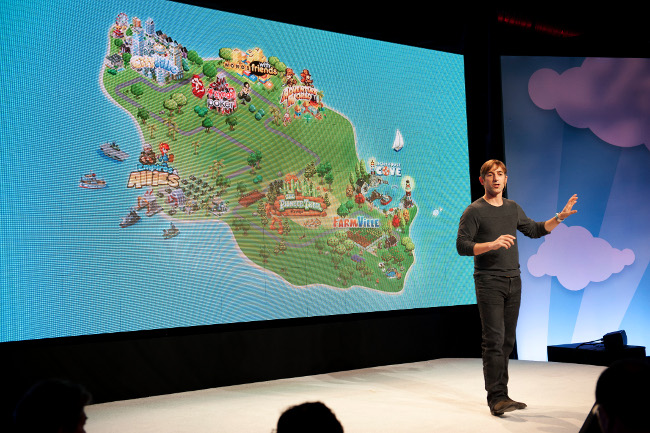 In the year 2011 Zynga accounted for nearly one-fifth (19%) of Facebook's total revenue and 15% revenue in the first quarter of 2012. 11% cash payment was paid by Zynga in 2011 and 12% in the first quarter of this year.
And I have already described that there might be a possibility of Zynga leaving Facebook in the future. Zynga launched its own web site, Zynga.org, to promote their games. Through Zynga.org, Zynga gamers raised more than $10 million. Meanwhile, recently Zynga has acquired many companies like OMGPop, Five Mobile (Toronto), Astor App Studio (New York), Page 44 Studio (Sanfrancisco) and Game Doctor (Germany). These companies relate to the mobile gaming zone. Indeed, it is also an evidence which shows Zynga's next step towards the mobile (social gaming) zone.
Why Zynga is targeting mobile (social gaming) industries :
The latest iOS and Android mobile phone are being used by a huge number of audience worldwide.It's a matter of concern that Zynga is targeting those folks who are spending a lot of time on Social  games on their mobile. As the social networking giant like Facebook and Twitter failed to cast eye-catching activity in mobile, Zynga might be taking the initiative steps in the mobile social networking field.