There are a lot of speculations about the shipments of Tablet in forthcoming years as demands of the devices are tremendously increasing in both emerging and matured markets quarter-over-quarter. According to a recent study, Tablet shipments will grow from 121 million units in 2012 to 416 million units by 2017. The shipments are expected to grow at a compounded annual rate of 28%. The growth in shipments will especially be driven by matured markets including North America, Japan and Western Europe.
Apple will dominate in terms of Tablet shipments this year with 62.5% market share, up 4.3% compare to the prior year. Indeed, it's important to know about the shipments of Tablet in the matured markets like Europe. Here, I'm trying to identify Tablet shipments in the U.K. According to a recent report (by Econsultancy), just 8% of the U.K population owns Tablet till Q2 of this year, equivalent to 3 million users. Here also, Apple is dominating; however, its market share has declined from 75% in Q1 of this year to 71% in the next quarter.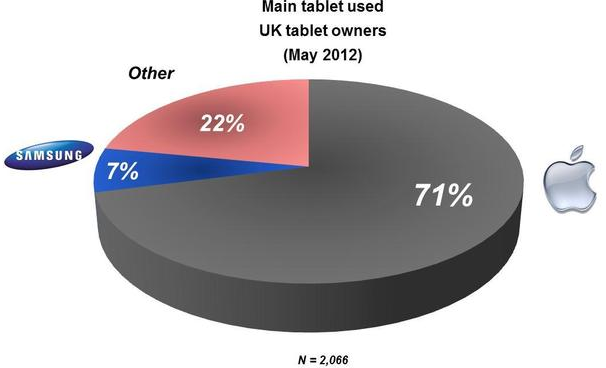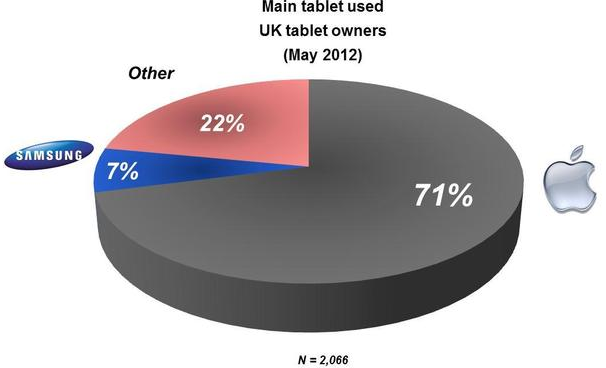 It's pretty clear form the above pie chart, Apple and Samsung are two major players in the U.K. market. iPad has strong penetration in this market, followed by Samsung with 7% market share in Q2 of this year. In overall iPad market share, new iPad alone accounted 11% market share in Q2 of this year.
Why Users Want To switch From One Tablet To other: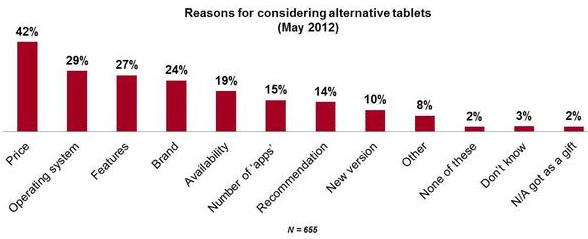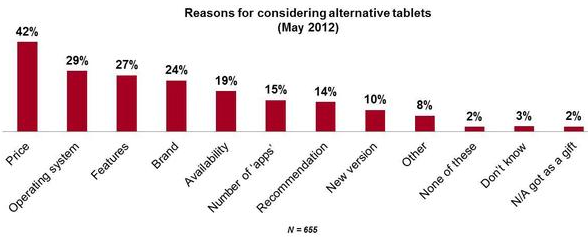 Usages of Tablets varies from one user to other. Some users are very specific about the purchase of the device. In the U.K, the price of Tablet is one of the determining factors compelling users to switch to other Tablets. Less price sensitive users in the  country prefer to own Apple's iPad, whereas more price-sensitive are willing to own cheap Android Tablets.
Undoubtedly, Tablets have become a big platform for marketers. Moreover, 69% Tablet user makes at least one purchase in a month. For marketers, Apple's iPad is on the main target for the purpose of business promotions, however, an increasing demand of low price Tablet is steadily eating up Apple's market share.
Some other factors such as OS, features, brand, availability and number of app are also determining the purchase of Tablets. In the U.K, 29% users purchase Tablet after being influenced by OS, followed by 27%, 24% and 19%,  those prefer to own the device for features, Brand and number of apps respectively.
Image Courtesy: Econsultancy