Demand of Smartphone is increasing with dizzying pace around the world and emerging markets (like India) aren't untouched with  its effect. According to an annual survey conducted by CyberMedia Group's flagship journal for the telecom Industry—Voice&Data–, the revenue of Indian mobile handset market declined by 5% in the FY 11-12. The revenue in the fiscal dropped to $5.586 billion (INR 31,215 crore) compare to $5.9 billion (INR 33,031 crore) a year back. The revenue plummeted due to decline in the demand of feature phone and lower average selling values (ASVs) in the last fiscal.
The survey was conducted in India over more than 30 mobile handset firms (including local and branded firms) selling feature phones, multimedia phones, enterprise phones and Smartphone across the country. Last year, growth of feature phone dropped compare to the previous year due to marginal rise of Smartphone's demand, except Karbonn and Lava, none of the local brands in the country could combat to global brands.
Nokia sustained its supremacy with revenue of $2.134 billion (INR 11,925 crore), however, its revenue dropped by 8% compare to $2.314 billion (INR 12,929 crore) in the previous fiscal. It lost market share to HTC and Samsung in the Smartphone segment in the last fiscal. Android made a strong dent into Symbian and other OS market share. However, the Finnish handset manufacturer dominated in the dual-SIM phones category.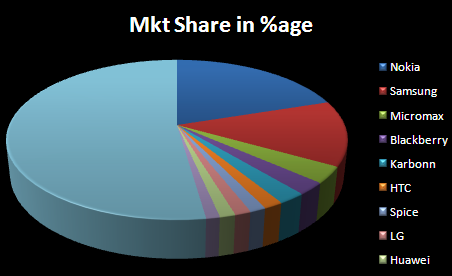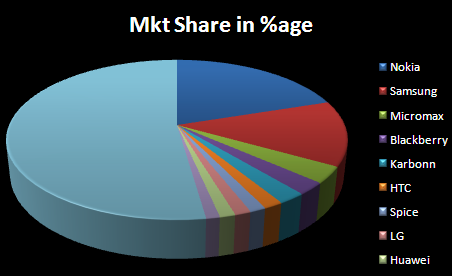 In terms of Mobile handsets market share, Nokia was at the top with 38.2%, followed by Samsung, Micromax, BlackBerry, Karbonn and HTC with 25.3%, 6.3%, 4.7% and 4.3% share respectively.
Voice&Data's Group Editor–Ibrahim Ahmad–said, "Indian mobile phone brands that had hoped to make a mark by sourcing Chinese handsets and selling them only on the price plank were in for a big surprise. These players will have to quickly rethink their product, marketing and service strategy afresh to put their house in order."
In fiscal 2011-12, Samsung generated $1.412 billion (INR 7,891 crore) revenue, up 38% compare to the previous fiscal, reported a revenue of $1.023 billion (INR 5,720 crore). At present, the South Korean electronic manufacturer are selling Smartphones powered by Windows, Android and Bada OS. Samsung sold 40,000 units of Galaxy Note (hybrid of Smartphone and Tablet) each month during the last fiscal since its launch in late 2011.
In India, local handset manufacturer-Micromax- has been ranked third, generated a revenue of  $354.05 million (INR 1,978 crore) in the last fiscal, recorded 13% negative growth. On the other hand, Canadian based manufacturer–RIM–recorded highest drop of 25% in the fiscal, posted a revenue of $261.29 million (INR 1,460 crore) in the last fiscal compare to $348.99 million (Rs 1,950 crore) in the previous fiscal.
On the contrary, HTC recorded a maximum growth of 105% compare to the prior fiscal. The company recorded $165.19 million (Rs 923 crore) revue for the fiscal 2011-12, up from $80.53 million (Rs 450 crore) in the fiscal 2010-11.
It's clear from the survey that an awareness towards Smartphone is continuously increasing in India. Moreover, decreasing demand of feature phone is depicting something else, shows users are trying to use the device more than a texting and calling device.