At present, every big tech-giants are trying to get into the mobile mapping spot. In mapping space, Google has long experiences and it has globally covered 26 million miles of road in 187 different countries. Recently, Apple has also jumped into mapping game and now, Amazon has wrapped off its plan to be a part of 3D mapping competition.
On Monday, Amazon dealt to acquire "UpNext", an American 3D mapping startup currently offering apps for iOS, Android and Kindle Fire. However, the technology involved in the 'UpNext mapping app' is somewhat different than the technologies used in Google and Apple's mapping app. UpNext's mapping app uses vector-based 3D images to recreate virtual buildings, which is similar to the images of 3D games that you are aware with.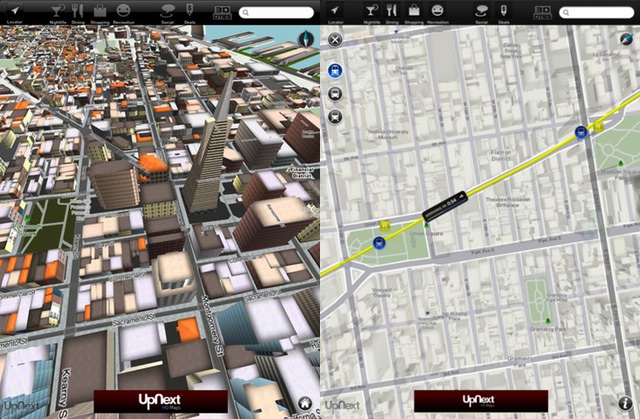 Amazon's UpNext acquisition is so interesting because at present, its Kindle Fire Tablet does not have GPS capabilities. What it stands for, it's boding a development for Amazon's hardware line up. We could expect GPS in the next generation Kindle Fire and might be in its Smartphone, on which Amazon is currently working. It sounds pleasure that Amazon is working on the development of mapping apps for its forthcoming devices.
But, it could be achieved by licensing with third party software instead to own the startup (UpNext). However, the company has not disclosed anything about how much it has paid for the startup. Just think differently, the retail giant might have a strategy to enhance its local commerce using maps. Undoubtedly, Amazon is one of the companies (including Google and eBay) focusing on local promotions by targeting specific consumers. However, Apple has not yet made its move towards local commerce, but teaming up with TomTom for its mapping app, could promote its local commerce.
It's well known that Amazon has launched Kindle Fire just for promoting its physical retail. Pushing into local commerce, the retail giant is trying to pull out itself from crowds. Really, the acquisition will open up a door for Amazon to create more revenue and also the deal will help to make its presence in the mapping business in order to compete with rivals like Apple and Google.
The UpNext's 3D mapping app are available for more than 50 cities, 23 cities sporting textured 3D with roadways. See the video how actually the map will be looked like…
httpv://www.youtube.com/watch?v=rX-2XmZXRLw
However, a fierce competition for mapping apps has been begun around the world. Apple integrated Google Map when it launched its first iPhone in 2007 and used the map for number of years, but now, it has decided to ditch out the map from its upcoming iOS 6. Apple is currently working on its own map and I think, Amazon has understood it very well that mapping apps are now a pre-requisites stuff for the mobile devices. We could expect a more comprehensive products from Amazon, which will include native mapping capabilities.
Video Courtesy: UpNext