At present, users are  more conscious about convenience-oriented features including instant-on capability, portability and long battery life and that's why, the demand of Tablet is continuously increasing year-over-year. The demands of Notebook PCs are magnificently being eclipsed by Tablets. According to a recent study from NPD Display Search, shipments of Tablet PCs are expected to grow at a compounded annual rate of 28%.
The firm has also reported that overall mobile PC shipments will grow from 347 million units in 2012 to 809 million units by 2017. Likewise, Notebook PC shipments are expected to grow from 208 million units in 2012 to 393 million units by 2017. But, most important paraphernalia is here about the growth of Tablet Shipments, expected to be increased more than 3 times by 2017 compare to 2012. Tablet PC shipments will grow from 121 million in 2012 to 416 million by 2017.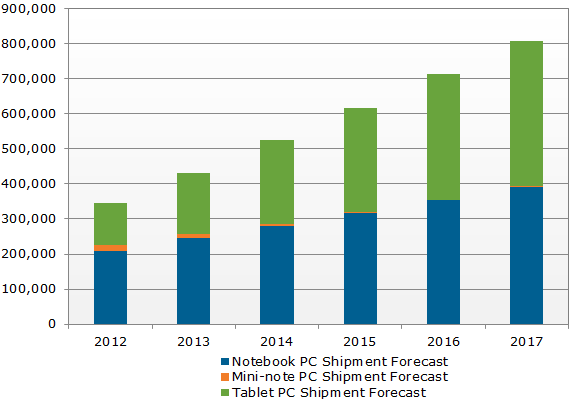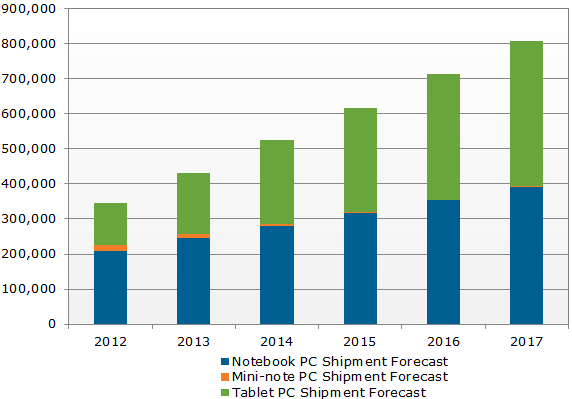 Richard Shim of NPD DisplaySearch said, "Consumer preference for mobile computing devices is shifting from notebook to tablet PCs, particularly in mature markets. While the lines between tablet and notebook PCs are blurring, we expect mature markets to be the primary regions for tablet PC adoption. New entrants are tending to launch their initial products in mature markets. Services and infrastructure needed to create compelling new usage models are often better established in mature markets."
Shipments of Tablet PCs are speculated to be driven off by adoption of the device in matured markets including North America, Japan and western Europe. These developed markets will account for 66% of shipments in 2012 and 60% range later in the predicted period.
In overall 121 million, matured market will alone account 80 million units in 2012 and 254 million units by 2017. However, the Notebook PC market will be considered as prominent part of the PC shipments till the end of this year, accounting for 60% of overall mobile PC shipments in 2012, but it will be declined to 49% by 2017.
Indeed, it's interesting to know that Tablet PC shipments will crossover Notebook PC's shipments by 2016. However, the demand of low price Tablets is also increasing in the emerging markets. At present, a lineup of low price media Tablets are available around the world such as Google Nexus , Kindle Fire, Nook and more.
Source: NPD DisplaySearch